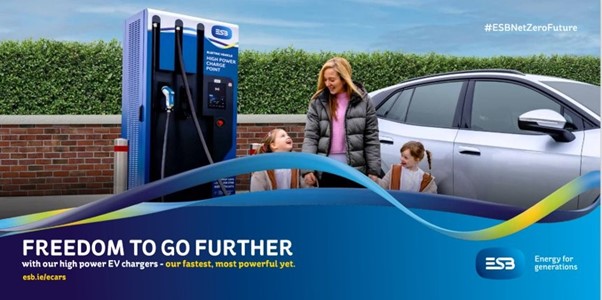 Together with every electric vehicle owner, ESB is playing its part in powering Ireland towards a cleaner, brighter future. To ensure we are ready to support more electric vehicles on our roads, we're investing in and upgrading the ESB electric vehicle public charging network across Ireland.  
This work is part of a €20m investment in the public charging networks. The intent of the programme is to update the charging speeds and technology, to improve reliability and to expand the network, the chargers are capable of being updated as technology improves further and allow for future expansion where possible. 
Part of this project is focused on building and developing high power charging sites capable of charging multiple vehicles simultaneously.  High power chargers are 150kW and can deliver 100km of range to an EV in as little as 6 minutes.  20 sites have been completed to date with more to follow.
The electrification of transport is a key component of ESB's low carbon strategy for a brighter future and forms an essential part of our Net Zero by 2040 strategy.
With 1,350 charge points nationwide, it has never been easier to charge your electric vehicle.

High power chargers are located at the following locations:
Between Junction 2 & 3, Kilcullen, Co Kildare (M9)
Junction 6, Kiltullagh, Co Galway
Junction 17, Portlaoise (M7/8)
Lunney's Service Station, Carrick on Shannon (N4)
Ballinalack, Co. Westmeath (M4)
N17 Tuam Plaza, Tuam, Co. Galway
Glynns Service Station, Carnmore, Galway
Circle K Frankfield, Kinsale Road, Cork
Blanchardstown Centre, Navan Road, Clonsilla, Dublin
Circle K /Centra Service Station, Rochestown Road, Cork
Circle K Service Station, Emyvale Road (N2), Coolshannagh, Monaghan Town
Amber Service Station, Dublin Road, Fermoy, Co. Cork
Kelliher's Inver (Mace), Ratass, Tralee, Co. Kerry
SuperValu, Sundrive Rd, Kimmage, Dublin 12
For more, download the ecar connect app, available in the Apple Store and on Google Play.