With communities all across Ireland coming together by staying apart, ESB has partnered with The Irish Aviation Authority (IAA) to beam a beacon of light into the night sky at Dublin Airport in solidarity with all those impacted by and helping the fight against Covid-19.
As part of the nationwide #ShineYourLight/#LonraighdoSholas campaign, the beacon has been shining since the beginning of April and is located on top of the IAA's new 87.7m visual control tower, Ireland's tallest occupied building. Each night, weather depending, the light projection is visible to the west and north of Dublin Airport, into parts of Meath and Louth, and as far south as Wicklow.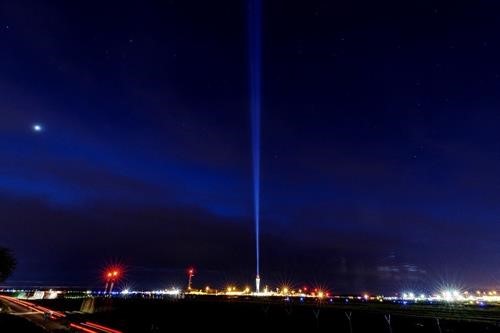 The role of ESB's Smart Energy Services
To bring the project to life, ESB's Smart Energy Services closely collaborated with the IAA to design, develop and install the unique lighting array – the project also involved work by Electric Skyline, EMF Technology and Kavanagh Crane Hire.
"The luminaire display comprises of 56kw of lights in total. During construction, engineers and contractors worked together next to the active runway at Dublin Airport and in line with government social distancing guidelines to construct the light beacon" explains Paul Fitzpatrick, ESB Head of Customer Solutions (pictured below).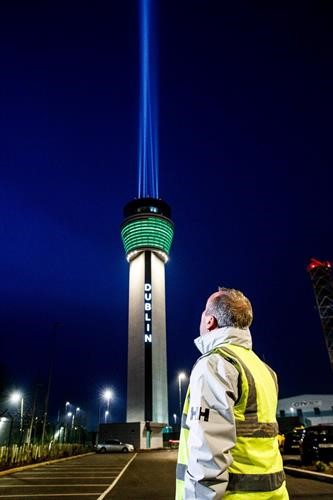 ESB's Smart Energy Services offer a range of sustainable solutions to reduce energy costs and carbon emissions across multiple industries. This project adds to their portfolio of work at Dublin Airport which includes assisting the Dublin Airport Authority (DAA) to achieve energy savings of 33% and the introduction of a high-powered charging solution for Ireland's first fully-electric bus earlier this year. Both projects represent further milestones as ESB continues to lead the transition to a low carbon future for Ireland.
Construction of the light beacon
Electric Skyline, who worked closely with ESB and the IAA on the project, filmed the construction phase of the lighting solution in the days leading up to #ShineYourLight on Saturday, 11th April 2020 – watch the video here.
We all must play our part
We have all seen the impact of Covid-19 in our communities, our workplaces and across society. We are all concerned about those closest to us, especially those most vulnerable, and each of us has been stepping up to play our part in flattening the curve.
In ESB, we know that electricity is providing vital support for everyone right now, underpinning many critical frontline services – while sustaining our ability to live, work and stay connected from home.
ESB has taken a number of steps to keep our customers and employees safe, to continue to maintain essential services across our businesses and helping to supply customers who are experiencing financial difficulty.
In shining this beacon of hope for Ireland, ESB also wants to thank all of our employees, especially those on the frontline, who are working tirelessly in the fight against Covid-19. Pat O'Doherty, ESB Chief Executive said, "this display is a way for us to give encouragement to our own staff who continue to work hard to bring light and energy to communities across Ireland at this very difficult time."
Standing with communities across Ireland
We hope our support to deliver this shining light for Ireland is a strong symbol of the resilience of Irish people as we continue to do all in our power to assist the national effort against Covid-19.
"ESB is proud to collaborate with the IAA on this initiative, and to stand with communities across Ireland to recognise the commitment of our frontline workers, remember the people suffering as a result of Covid-19 and reach out to those who feel anxious and isolated at this time." Pat O'Doherty, ESB Chief Executive.
#ShineYourLight
The light beacon will continue to shine from the IAA control tower at Dublin Airport every night from 9pm as we all as one society, especially frontline workers across the country, fight the battle against Covid-19.
For more information on how is ESB is continuing to maintain critical services and protect public health during Covid-19 – click here.