2021 is proving to be another breakthrough year for electric vehicles (EVs). In the first half of the year, there were 6,233 Battery Electric Vehicles (BEV) and 6,455 Plug-in-Hybrid vehicles (PHEV) registered in Ireland, representing more than 14 per cent of total car registrations, up from around six per cent in 2020.
But what is driving this?
Ireland has a comprehensive range of supports for EV adoption which is helping to increase demand but there is more to this growth in demand than government incentives. In this blog, we look at some of the reasons why more people are making the move to plug-in electric vehicles.
Vehicle Choice
Firstly, it's all about greater choice and suitability. Five years ago, there were only a handful of electric offerings whereas now, there are 13 manufacturers offering multiple BEV and PHEV models in Europe catering for all market needs. These offerings will continue to increase, helped by EU regulations for new vehicles and decisions by numerous member states, including Ireland, to end the sale of new internal combustion engines in passenger cars by 2030.
The figure below shows expected new models of BEV and PHEV vehicles over the coming years.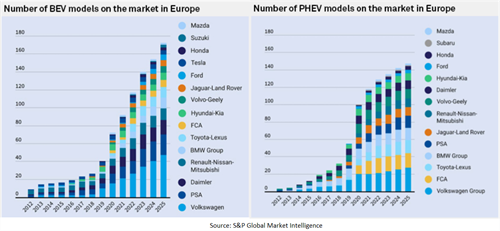 In Ireland, as set out below, the six top-selling BEVs in the first half of 2021 are relatively new models to the market. The arrival of Volkswagen models in particular has had a significant impact on EV sales.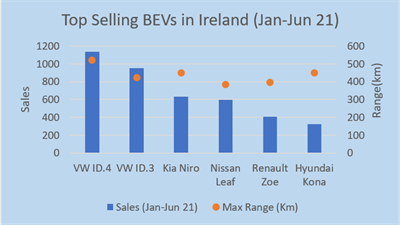 Increased new plug-in electric vehicle sales in Ireland and Great Britain is helping, for the first time, to develop a vibrant market for second-hand EVs. Evidence of this is already emerging with CarZone.ie offering more than 1,200 second-hand plug-in vehicles as of August 2021.
An increasing second-hand market will help accelerate the move from internal combustion engines and, in turn, lead to greater demand and roll-out for public charging infrastructure.
Charging and Range
Range anxiety, combined with a perceived lack of charging infrastructure, has been cited as a barrier to EV adaption – this is changing. The range of new EVs is large enough for the majority of journeys (in 2016, the national average car trip was around 16km) and there is significant charging infrastructure; importantly increased range can reduce demand at public chargers and result in more efficient charging at home.
A recent EV Owners Association member survey found that close to 60 per cent of respondents prioritise charging at home. In the long term, ESB believes that around 85 per cent of the average drivers charging will happen at or close to the home.
Interestingly, ESB ecars most used AC and DC chargers are both at shopping centres, with the retail and hospitality industry embracing the changing needs of their customers
There are now more than 1,800 charge points available for public charging across the island and we expect this to increase further in response to government supports for local authorities while other players are expected to enter Ireland's growing market.
In July, ESB opened its new eight-bay charging hub at Junction 14 Mayfield on the M7, marking the latest development in our €20m infrastructural programme to enhance the country's electric vehicle charging network, supported by the Government's Climate Action Fund (CAF).
In addition, more than 200 22kW standard chargers had been upgraded across Ireland by May of this year, with 21 standard chargers upgraded to 50kW fast chargers at key locations. These fast chargers allow users to get an 80 per cent charge in less than 30 minutes.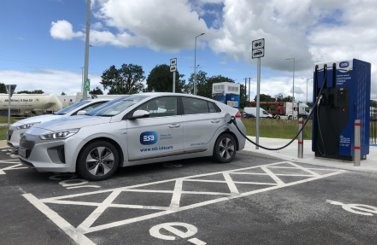 For apartment dwellers, there is good news too. The Government recently enacted legislation to ensure that all existing apartment blocks with more than 20 parking spaces must have at least one EV charger by 2025 – and all-new apartment blocks must have at least one charge point plus ducting in place to cater for more charging points as demand increases.
WATCH – How ESB is investing in electric vehicle infrastructure
Climate and Environmental Awareness
There is increased climate and environmental awareness in Ireland in recent years. The Citizens Assembly showed that Irish citizens want to take action and since then, we have seen many new initiatives, most recently the 2021 Climate and Low Carbon Development Act.
To decarbonise transport in Ireland, we must start with the promotion of active travel (walking, cycling, etc.) and the use of public transport must increase. Residual private car transport should move to electric as soon as practically possible given the compelling reasons to do so.
Plug-in EVs have no tailpipe emissions and so, avoid highly damaging emissions from petrol and diesel cars which is especially important in urban areas.
Carbon emissions from an electric-powered car are less than half of a petrol car now and by 2030, with increasing renewable electricity, will be only a fraction.
The time is now
Ireland, like the rest of the world, will transition to fully electric private transport but this will take time. In the short term, now is a good time to look at your options to see whether you can make the change to electric driving for the better.
For more information about ESB ecars visit esb.ie/ecars
#esbbrighterfuture