Ger Stapleton is a Plant Manager at the Delimara 4 power station in Malta, one of the plants operated and maintained by ESB International. In this month's People of ESB, he reflects on the beginning of his career at ESB as a graduate, how he moved to Malta with his family at the start of the pandemic and how forming relationships allowed him to broaden his horizons within the company.
TELL US ABOUT YOURSELF.
My current role is Plant Manager for ESB International in Delimara 4, Malta. Delimara 4 is the first independent power station in Malta, and ESB International is responsible for operating and maintaining its units. We look after three Siemens gas turbines, a single Siemens steam turbine and all the associated balance of the plant.
The station has a team of 38, primarily local Maltese staff with a few other people like me who have made the move over. As the plant manager, I have the overall responsibility for the team on-site and I have a direct role in safety, human resources, operational decisions, technical and maintenance planning and execution, and everything else that comes up on a day-to-day basis.
Thankfully, I have a very strong local management team behind me, and together we keep everything operating smoothly. I am also the local liaison between ESB International and the Delimara 4 project owner.
HOW LONG HAVE YOU WORKED IN THIS ROLE?
I joined the team in Delimara 4 in September 2020, six months after Covid-19 changed how we all work and live.
I started my career in ESB in Hibernian Wind Power as a graduate, before moving to Marina Generating Station in Co Cork as a shift manager and later as plant manager when Marina converted to an open-cycle operation.
I then moved to Aghada to work in technical services and then into the commercial area of ESB Group where I worked on long-term service agreements for our large, combined cycle gas turbines (CCGT) fleet. All the while building up knowledge in operations, projects, management and contracts that has given me the skills required to do my current role.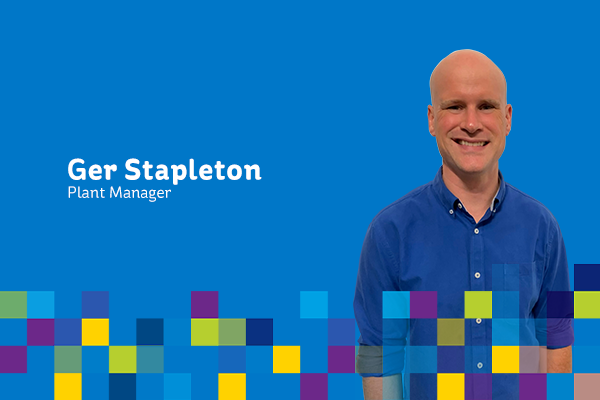 WHAT WERE YOUR EXPECTATIONS WHEN JOINING ESB?
I had expected to feel like a small part of a vast organisation. I find that because of the various communications, the intranet and online seminar events, it is easy to connect with people and to learn about the wider business. This has meant, to me, that it does not feel as large.
WHAT HAS SURPRISED YOU MOST ABOUT WORKING IN ESB?
I have spent all my career in the power generation side of ESB. For an extensive business, I was surprised at how interconnected a lot of the staff are. Through various collaborations, projects, and courses over the years, it seems that wherever you go in ESB, you will know someone, or they will know one of your colleagues.
These connections make integrating new people an effortless process. I hope that can continue with the new ways of working that we are all embracing.
HOW HAS COVID-19 AFFECTED YOUR DAY-TO-DAY?
Day-to-day work before moving to Malta was still a novelty. I had set up a home office in our camper van and settled into a new pandemic routine involving daily walks, homeschooling, and lunch at home every day. It was nice to have the flexibility of working away from the office but it was a little isolating to be away from colleagues, family, and friends.
My family and I moved to Malta in September 2020, and Covid cases here were still extremely low. Wearing a mask in the supermarket was a requirement, but other than that, things were normal here. It was quiet as there were not many tourists, so it was an enjoyable time to explore.
Since then, my family has settled in well to everyday life with school and other activities.
Day-to-day at the power station is still characterised by online meetings,so it will be interesting trying to recognise everyone when we no longer wear masks or are communicating through a screen.
The climate here makes it quite easy to meet people outdoors if a meeting is essential and sitting with all the windows open is only a problem when it gets too hot rather than too cold. Covid is still here, but day-to-day, we stay safe and get on with life as best we can. The people here are friendly, and I think that once that part of the puzzle is in place, everything else is easier.
DESCRIBE YOURSELF IN 3 WORDS.
Helpful, reliable and honest.
WHAT HAVE YOU LEARNED SINCE COVID AND WFH?
That digital literacy and connectivity are vital. From homeschooling to MS Teams to Zoom, and figuring out how to mute the microphone and suffering through a glitchy connection. We all need to be experts at these things now.
WHAT ARE YOU MOST LOOKING FORWARD TO IN 2022, AND BEYOND?
From a personal perspective, I am really hoping that the world returns to some form of post-Covid normality, and we can explore a little around the Mediterranean. It will also be nice when family and friends can come to visit safely. We have essential works to complete on-site this year, which will be a significant focus for the first part of 2022. We will also commence planning for major other works in 2023.
WHAT ADVICE WOULD YOU GIVE A GRADUATE STARTING THEIR CAREER IN ESB?
To be inquisitive. We all have our jobs to do, and it is crucial to deliver on what you are expected to do in your role. Still, at the same time, if you are interested to learn, ESB has always facilitated people experiencing various parts of the business and other positions. You may discover an aspect of work that you find out that you love, something you never envisaged.
DOES YOUR WORK ALIGN WITH ESB'S PURPOSE AND VALUES?
I certainly like to think so. Caring, courageous, trusted, driven, and creating a brighter future for our customers are ambitious goals, but I think a lot of people can align with them. My daily actions here in Malta are set to show our clients that we care about our work and the results we deliver for them. I also hope that through my actions, each member of the team here knows that ESB cares about them and appreciates the efforts they put in.
FOR PEOPLE WHO WANT TO JOIN YOUR FIELD OF WORK, WHAT THREE THINGS SHOULD THEY KNOW?
There is a place for highly specialised people and for people with a wide range of experience and knowledge. Whatever route is most interesting to you is available.
Relationships are important. No matter how much you know or how much you would like to learn, working with people and forming relationships is a crucial part of your career.
And finally, I advise getting involved. Spend time getting to know what your colleagues are working on and work with your manager to get involved in different business areas. You will expand your knowledge, keep your work exciting and gain new experiences.
Twitter: @ESBGroup
Facebook: ESB Careers
Instagram: @theesbgroup
LinkedIn: @ESB