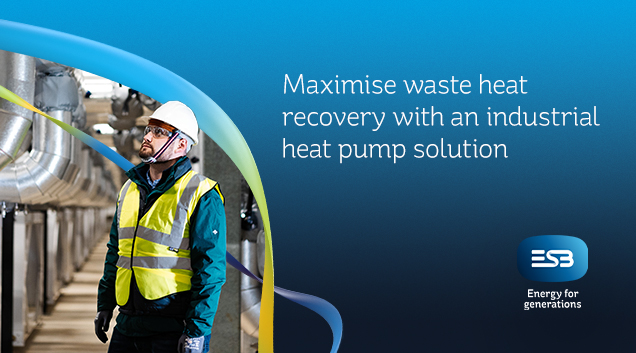 The current conditions within the energy market, particularly around the reliance on traditional fossil fuels, has focused attention not only on the direct cost of supply but also the implications their use has on our environment. We have also seen the direct impact of climate change both here and overseas with drought, floods and excessive temperatures becoming a familiar sight on news and social media.
The industrial and manufacturing sectors now have a real opportunity to rethink energy policy and those associated processes that affect direct and indirect costs, as well as carbon emissions and ultimately, our environment. Naturally, our partners want to see us all playing our part.
The increasing demands placed upon industry to save energy and reduce carbon emissions brings both a financial analysis and process efficiency analysis under scrutiny. Our heating and cooling demands are never equally balanced, it is either too much or too little of one or another, or it is in the wrong place.
The ability for industrial and manufacturing sites to deliver the heat needed for their process loads has often been delivered through fossil fuel-burning appliances. Our attention now turns to decarbonising the process loads' businesses need, replacing them with more innovative renewable heat solutions.
Heat pumps can often provide part of the solution, if not the whole answer
Heat pumps provide an electrically powered geothermal heating system that uses the natural underground temperature of the earth, water, air, or sewer in order to heat, cool and provide hot water to commercial and residential buildings.
Ground, air, or water-sourced heat pumps are both efficient and sustainable. Whilst initial capital investment can be high, ESB's Smart Energy Services €75m decarbonisation fund can provide financial support to your organisation to reduce the impact of expensive up-front capital investments on day-to-day operations
Using a Heat or Power Purchase Agreement, ESB's Smart Energy Services will design and install a custom heat pump solution to provide your heating or cooling at a discounted rate. While legacy systems present challenges for organisations seeking to reduce their carbon emissions, a heat pump provides a future proof, low carbon solution that can deliver immediate cost and carbon emissions savings.
Adjacent rivers, underground aquifers, car parks or fields are all valuable sources of energy to contribute towards your heating and cooling needs, as well as providing a low carbon solution with reduced operating and maintenance (O&M) costs and increased lifespan.
Heat Recovery Systems
Industrial and manufacturing sites also give a unique opportunity to utilise heat recovery systems. By capturing waste heat via an air source heat pump, businesses can utilise the recovered heat as either a standalone solution or alternatively, as a viable energy source to support higher temperature heat pumps. This can give the user a low carbon heat source that can help deliver the higher temperatures needed for industrial applications.
How ESB's Smart Energy Services can help
With more than 20 years of heat pump experience and expertise, we will work with you to find the optimum solution to meet your organisation's bespoke needs, taking full responsibility from design through to installation and commissioning. Our range of funded and managed off-balance sheet solutions eliminate risk while allowing your organisation to invest in the latest low carbon technology.
Speak to one of our energy experts today to learn more about how your organisation can benefit from an industrial heat pump solution that will be custom fit for your specific needs.