Lidia Juskowiak has worked at ESB for four years. After initially travelling to Ireland from Poland for a holiday, the law student chose to remain here as she felt so welcomed by the community. Now working in Operation Excellence in ESB's Enterprise Services, Lidia tells us about her important role as the lead of BeME@ ESB, a group which provides ally training to support LGBTQ+ employees at the company. ESB continues its partnership with Dublin Pride in 2022.
Lidia, you've been with ESB for four years now. Tell us about your current role?
I joined the Operational Excellence team in Enterprise Services in July 2021. Since joining the team I have been continuously training in the industry standard operational excellence practices and I get to work in and experience different business units within ESB, while helping teams reach their full potential by implementing 'Lean Methodology'. Lean methodology is a way of optimising your organisations' people and resources to create value for customers and stakeholders.
My role is very dynamic. On top of Lean Projects we also run a Lean Academy, giving people in ESB an opportunity to learn and develop new skills by gaining a Lean 1C accreditation.
Prior to this role, I worked in ESB Trading as a Governance Analyst. I joined ESB in April 2018 and this was my first 'home' in ESB.
How does your current role align with ESB's net zero strategy?
In my current role I support different Lean Projects across the organisation. Every project supports both ESB's values and strategy. The operational excellence team promotes lean thinking, which enables teams to consider their performance aligned to key business objectives including the net zero strategy.
Utilising our Power of Three model enables us to collaborate with business units across the organisation to look for better ways of working and embed the capability to create a cycle of continuous improvement.
Our agile approach focuses on empowering people to deliver small, incremental changes regularly, which adds up to success over time and greatly contributes to the ambitions of the net zero strategy.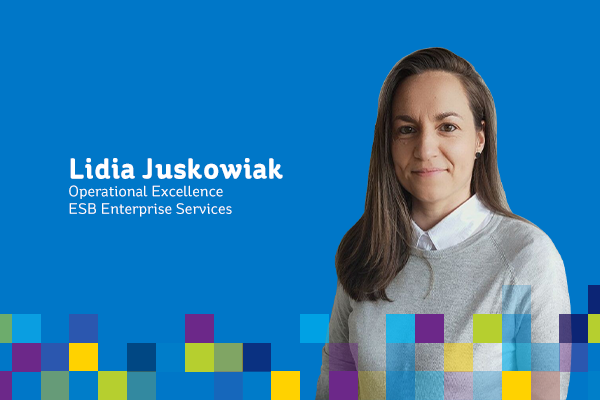 You're also the lead of the BeMe@ESB working group. What does that role entail?
Being a member of any committee or working group requires commitment and belief in the purpose of that group.
Inclusion and diversity are not just important, it's a necessity in any organisation. Our workplace needs to represent our communities and the customers we serve. A part of being a member of this group is a need to be courageous, to share your own lived experiences in order to empower others to do the same, and to create a more inclusive experience for all.
By sharing our stories, we give a voice to other members of not just the LGBTQ+ community itself, but anyone from any unrepresented groups/community who can relate to us.
What's your proudest achievement as a Be Me member?
Last year I was asked to represent both ESB and BeMe@ESB at the CIPD Ireland HR awards. ESB was nominated in two categories, one of them being a Diversity and Inclusion award. I was able to share ESB's journey from an idea to launch of BeMe@ESB – ESB's LGBTQ+ Employees and Allies Network – and the success behind it and share my own experience as an employee at ESB in front of the judging panel. I believe that authenticity and ability to bring my whole self to work and in front of the judging panel is what set us apart from others and helped us bring the award home.
This was my proudest moment, not just being able to contribute to winning the award but being able to show the passion and commitment deeply rooted in ESB when it comes to diversity, equity, inclusion and belonging.
Does your role in ESB align with your personal values?
My day-to-day role in operational excellence is very much aligned with my values and passion for constant growth and improvement, and a belief that there is always a better way to do things. I can bring that passion to my work and always know that my voice and ideas are valued. Equality and equal opportunity are something I feel very strongly about and both my day-to-day role and my role in BeMe@ESB are very much aligned with this.
ESB has been a Pride partner for over five years. What does this mean for employees at ESB?
Before becoming a Pride Partner, ESB has supported LGBTQ+ charities for many years. We have done it before it was popular, through our CSR programme. ESB has had a long-standing partnership with BelongTo, an organisation supporting a youth LGBTQ+ community in Ireland. While this partnership has enabled BelongTo to delivery an education programme across schools in Ireland, the Pride Partnership has given an increased focus to both our internal and external visibility as an inclusive organisation.
Having Jim Dollard as an executive sponsor of BeMe@ESB Network enabled us to gain more visibility across all levels of the organisation and through that provide support to the people of ESB which aligns with ESB's values of being courageous, caring driven and trusted.
Tell us what Pride events ESB has lined up for 2022.
While we have a programme of events for June, the BeMe@ESB network is active all year around delivering sessions such as the 'I Am an Ally' awareness programme. During the last two years we have successfully delivered a virtual programme of events reaching different parts of the organisation which enabled us to be even more inclusive as geography was no longer a barrier. Following on from that success, we are organising both Virtual sessions and and in-person meet and greet in our newly opened HQ in Fitzwilliam Place (F27) in Dublin.
Our Pride Events for this year are:
June 9 - BeMe@ESB 'The Journey' – Virtual Session

June 16 - Letters and Stripes – delivered by Pride at work – Virtual Session

June 21 - National Gallery – Pride in Art – Hybrid Session

June 22 + 23 - Lunch Time Meet and Greet F27
In previous years we have participated in person in the Pride Parade, however for this year we decided to focus on virtual events and give the Pride Day back to the LGBTQ+ community and allies.
What advice would you give ESB colleagues if they wanted to work with BeMe@ESB or become an ally?
Be proud of who you are and don't be afraid to live your authentic self. For me it was important to become a part of BeMe@ESB Network as I wanted to make a difference for other people the same way ESB has made a difference for me.
I was lucky to walk into a diverse and kind group of people and after seeing the 'I Am an Ally' video early into my career in ESB I realised this is what I want to do for others. It is a great power being comfortable with who we are and with that power comes a responsibility to share our stories and hope they will inspire others and help them bring their whole self to work.
I think we are all allies to one cause or another, we live in a world full of resources which enables us to learn and grow and educate ourselves. All we need to do is be is kind and open minded.
Follow People of ESB on social using #PeopleofESB