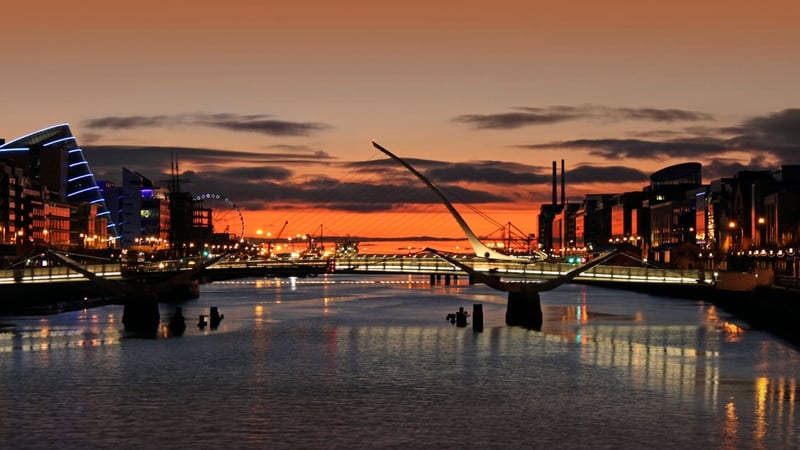 If the past 12 months has taught us anything, it's that our way of life and the norms we take for granted can change dramatically, in a very short space of time.
The pandemic has altered how we live, work, play and interact with the environment around us. It has also forced us to pause and consider. Is the way we've always done things actually the best way forward? Could we do things better, for a brighter future?
One of the biggest questions brought to the fore by Covid-19 concerns the future of our cities. Will we gather in cities the way we used to in large public spaces? Will urban retail strips survive? And will we ever revert back to the daily 9-5 commute into central business districts?
Jamie Cudden, Smart Cities Lead at Dublin City Council, says city centres will need to be completely re-imagined post-pandemic.
"There is so much to think about in terms of Covid and the impact on our cities. I think cities have been hit disproportionately compared to the rest of the country. Normally cities are places where business and economy thrives but what we have seen with Covid is the complete opposite."
"I think how we use our city centre will be different in the future," he says.
"It will be more about the experience of being in the city centre. It will be more about culture, about eating and meeting and socialising.
"I think we will see a lot less priority in terms of cars in the city centre into the future and more focus on quality use of space, greening the city and making it a much more attractive place to be and come into."
Paul Hogan, E-Mobility Business Development Lead at ESB, said the future is electric when it comes to transport. He envisions a future city connected by a network of electric transportation modes, enabling a more sustainable and efficient commute.
In just 5 -10 years, Paul predicts Dublin and Cork could function with a system of 'e-mobility hubs' located on the outskirts, effectively keeping private cars from congesting the city centre.
Future commuters will drive their electric vehicles to one of these hubs and plug them in to charge before hopping on a self-driving shuttle to work or jumping on an e-bike or e-scooter to continue their journey.
The Irish government estimates that by 2030, there will be 1 million electric vehicles on our roads with proposals already in place to ban the sale of non-zero emission vehicles after this date. There are already more than 1,100 standard and fast charge points dotted across the island of Ireland, with ongoing investment and innovation in this area.
Eric Wang, CEO of Wind Mobility, the leading scooter sharing company in Europe, projects that micro-mobility will largely replace private cars in the future, making cities greener and more enjoyable.
Eric, who has just launched his company in Dublin, said up to 70% of transport in city centres would be on shared mobility devices like bikes and scooters in the next 20-30 years.
Sustainability and Climate advisor Ali Sheridan says the pandemic has highlighted our 'imbalanced' way we used cities in the past.
'We need to rethink what it is we want our cities to do for us. If you want people to live in our cities we need to think about what facilities are available to them,' she says.
To hear more about the Future of Cities, listen to the Future Now, Future Next podcast in association with ESB here or wherever you get your podcasts.
ESB is leading the transition towards a cleaner, brighter future. Learn more here.