People of ESB is a 12-part series documenting the lives of ESB staff across our various business units. This month, we meet Ratna Nelapati, Innovation Manager at ESB. Ratna is about to celebrate her 20th year at ESB, a place where she not only works on world-first solutions in energy innovation, but a place where she was able to become a diversity champion by introducing her colleagues to Diwali, a Festival of Lights, which celebrates good over evil and light over darkness. As much as she's looking forward to reuniting with her ESB colleagues in real life, first on her list is to visit her family in her home country of India.
What's your role in ESB?
As Innovation Pipeline Manager, my role is to develop new business opportunities for ESB and manage selected strategic partnerships. It requires sourcing, vetting and the onboarding of new business opportunities with external parties that fit with ESB's Brighter Future strategy in three key areas: cost reduction, performance improvement and new revenues.
In my previous roles, I worked on solving challenging issues and developing strategic and practical solutions for ESB and our customers, such as devising a capability model for our Carrington Plant in Manchester, smart metering and IT strategy for our customer supply wholesale business.
How long have you worked in your current role?
I've been part of ESB's strategy, innovation and technology team for the last four years and I'm thoroughly enjoying taking on new challenges, growing my business network, and to have the opportunity to communicate ESB's strategy and its shared values in building enduring partnerships.
I've been with ESB for almost 20 years, working on various high-profile projects across all business units.
One of my biggest achievements during this time is being a diversity champion within the organisation. By promoting diversity and increasing awareness about gender equality through women's leadership programmes and about Indian culture through Diwali, a festival to celebrate the triumph of light over darkness, good over evil and knowledge over ignorance.
Since 2014, we have been consistently celebrating Diwali where many of our colleagues dress up in colourful attire and take the opportunity to learn about cultural diversity in India and try Indian food (which is our language of love and we show affection through food).
We all make the time to enjoy each other's company and, for me, that is exactly what inclusion and diversity is all about — being able to get into someone else's clothes and see the world through their eyes. With leadership commitment strong and consistent I have been able to contribute to creating this inclusive culture.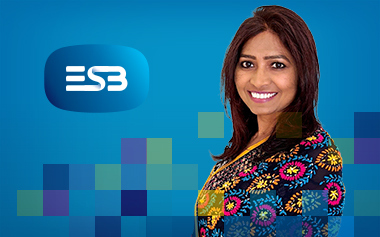 What were your expectations when joining ESB?
I did my research and knew that ESB was a highly reputable company and I was confident that I'd be given work that makes the best use of my abilities. And here I am, 20 years later, happy and enjoying every moment of it. It wouldn't have been possible if not for people that I've worked with.
What has surprised you most about working in ESB?
Travelling from India about 20 years ago, it was daunting to think about working in a new country and a new environment. What surprised me the most is that ESB explicitly valued the diversity of new perspectives, no matter who you are and where you come from.
We all need to feel valued, like we make a difference, and that's what ESB has done for me. One of the key elements of work that I find most rewarding is building relationships and getting to know other ESB employees at both professional and personal levels.
Making an impact is one of the top reasons why I love working in ESB. My work doesn't have to end with my day-to-day work – I get involved with ESB's Electric Aid projects when time permits and other various programmes that offer support to those in need. ESB offers each one of its staff to be a part of something bigger – a culture that promotes giving back and making your community a safer and a better place.
How has the last year affected your day-to-day?
It has given me the rare opportunity to pause and consider how we live. Our family calendar used to be so busy on weekdays and weekends but, for the last 12 months or so, it has nothing listed on it except for online grocery delivery times. There has been no rushing, no juggling, no stressing! I'm not only spending more quality time with my two gorgeous daughters; I am also spending more time with my husband and with myself - all this time together has certainly strengthened our bonds.
At the same time, these past few months have proved to be the most difficult and challenging in terms of being away from India and my family there. As the worldwide spread intensified, like many others, I could only watch helplessly as the numbers impacted increased.
I know that I am not alone in learning to navigate these uncertain and challenging times. If there is a silver lining in all of this, it's that ESB's leadership team are prioritising mental health and wellbeing of the staff during these challenging times and when in need, I would encourage staff to seek support.
Describe yourself in 3 words
Honest, driven and fun.
What has the past year taught you?
Remote work is sustainable and doesn't affect productivity. We as an organisation are fortunate to have invested in digital transformation at the right time and it was a smart decision, because it not only positioned ESB to survive the pandemic, but is also an investment that will accelerate growth once we are on the other side of this.
However, my work as part of innovation has a strong culture of collaboration and connectivity, which certainly is harder to nurture when working remotely. We have been able to work and collaborate remotely but I am definitely missing the camaraderie of being in person with my team and the culture of building relationships.
On a personal front, I'm grateful that technology has helped families to stay connected during these challenging times. Like all of us, video calls have made it easier for me and my family to be able to see our loved ones onscreen and keep in touch.
What are you most looking forward to in 2021, and beyond?
I have never missed my family in India so much. The first thing on my list is to go home to my family and hug them tight, followed by lots of delicious authentic Indian food that only my mum can cook. For now, I'll keep dreaming of that day.
On the work front, we all can agree that digital offerings have leapfrogged years of progress in a matter of months, and we are heading towards a stronger omnichannel society to make it easier and convenient for customers. My team is embarking on an amazing world-first solution where our customers can assert their identity on demand in a safe, secure, reliable way. I'm confident that we can create a better experience for our customers as we have the infrastructure and architecture in place to enable this digital transformation.
What advice would you give a graduate starting their career in ESB?
We love coffee culture in ESB – it builds a powerful sense of connection. So, my advice is to start off by getting to know your fellow graduates and other colleagues. Be positive, be pro-active and willing to learn, as you will be trained in new facets of positions and gain knowledge and expertise. Walk, stroll or run – ESB will give you the start but it's your own race. Owe it to yourself to take the time to suss out what makes you happy and enjoy every moment.
Does your work align with ESB's purpose and values?
Within the Innovation Pipeline team, our values make us who we are. We run the Free Electrons Programme for ESB. We are one of the founding members of the world's first global energy accelerators, where we work with world-class energy start-ups that drive the next generation of ideas in clean energy, energy efficiency, e-mobility, storage, digitisation, and on-demand customer services.
Our mission to build global strategic partnerships that help create new revenues, improve performance of our assets and staff and reduce operational cost requires: trust to innovate and come up with new solutions, drive to push ourselves to the risky paths of success, courage to follow it to the end, caring to help our customers and to help our environment.
For people who want to join your field of work, what three things should they know?
We love to connect with people who are passionate, motivated and focused on developing innovative solutions for a better way of life for society, have a strategic mind and be a team player to run a part of the race to the finish line.