ESB has always recognised the vital part that the arts play in social and economic progress, engaging communities and in innovation and creativity. This has been the case in generations gone by and will be the same for generations to come.
Our support for the arts in Ireland includes partnerships across many different sectors and parts of Irish society. This includes the ESB Centre for the Study of Irish Art (CSIA) at the National Gallery of Ireland (NGI).
The ESB CSIA houses the Gallery's Irish art library and archive which has been crucial in preserving Ireland's visual cultural heritage and supporting the future of artists across the country. Established in 2002, the collection is home to thousands of books, an archive library and collections relating to the country's artistic legacy from early Celtic art to the present day.
This includes a library of publications on Irish art, enriched by rare illustrated book collections, featuring work by well-known Irish artists such as Rose Barton, Harry Clarke, Louis le Brocquy and Flora Mitchell.
Allied to this is archival collections of letters, diaries, sketchbooks and other ephemera, which combine to reveal the rich history of art and artists in Ireland over the past 300 years.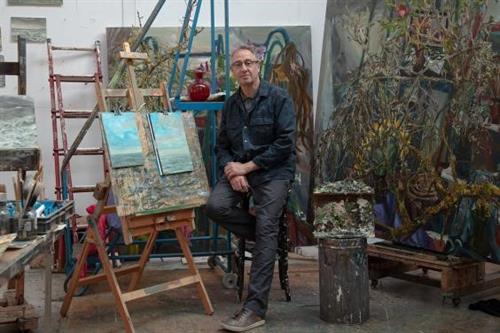 ESB-supported Artists' Voices: Life in a Pandemic during Covid-19

Fellows of the ESB CSIA
As part of ESB's commitment to the partnership, annual art historian fellowships are funded to support the collection. Currently, Donna Rose and Grace O'Boyle (pictured below) are working in the roles on a two-year programme that helps to contribute and support the ESB CSIA year-long exhibition and publication programme.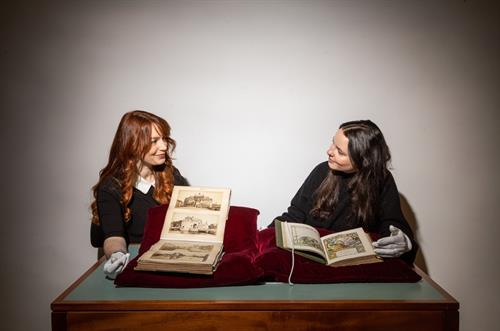 Rose, who gained experience working with art history and collections around the world after completing her studies at CIT Crawford College of Art & Design, explained what is involved as a fellow of the ESB CSIA. "Every day is different. Our role is multifaceted, it involves supporting Irish artists in carrying out research, meeting all kinds of people from students to authors to experienced artists, all who are looking to learn more about art in Ireland using the collections that are supported by ESB," she said.
"We try to share our experiences and the experiences that are housed in the Gallery with whoever we can, this is so important for the future of art in this country," added Rose.
O'Boyle studied arts history at Trinity College Dublin and went on to complete an MA at University College Dublin. She summarised that the three main roles of an ESB CSIA fellow are to "support collections and care, outreach and engagement, and research, but there is much more involved than that."
Both touched on how the industry can often prove challenging to get started in for a young professional, the fellowship programme offered by ESB is a stepping stone for a career in the arts, they said. Both expressing how it gave them the confidence to take a leap into the industry after their studies.
Support for Irish art
ESB's support for the CSIA not only includes historical collections and archive materials. There are also annual exhibitions on some of the key figures in Irish art history such as George Bernard Shaw, Constance Markievicz and currently, Anne Yeats.
During Covid-19, ESB supported Artists' Voices: Life in a Pandemic. The series of oral histories, led by Donal Maguire, curator of the Gallery's ESB CSIA, documented some of the experiences and thoughts of artists living and working through the pandemic.
This wide-ranging support offered by organisations is crucial for the future of the arts in Ireland, says O'Boyle.
"Corporate support from companies such as ESB cannot be underestimated. ESB can be a leader for other organisations to show the difference that their support for the arts can make. It energises the arts," she added.
On the challenge of Covid-19 for the ESB CSIA and the NGI as a whole, Rose explained that instead of focusing on the negative impacts, they have used it as an opportunity to carry out a digitalisation project to put the collection online. "This not only allows people to access archive material and supports when Covid-19 doesn't allow people to attend the Gallery in-person. But it also allows everyone from students to artists across Ireland to use our resources from wherever they call home. It is all about giving more people access," said Rose.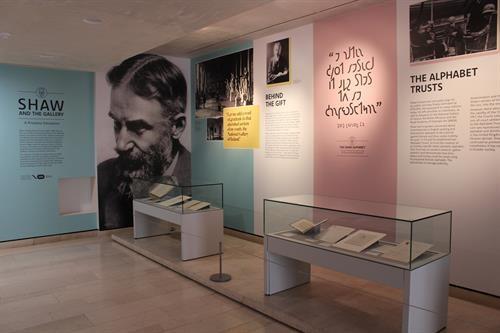 George Bernard Shaw: A Priceless Education exhibition, was on display in the NGI in 2021
Looking to the future
So what's next? For Rose, the future will involve a PhD on the history of sensitive Irish materials, while O'Boyle will continue to lecture and hopes to stay working in NGI in some capacity.
At ESB, support for the arts will continue with all of our partners and projects. As the arts play a significant role in both documenting and harnessing social change and in helping to create a brighter future, and ESB will play its part in protecting its heritage and powering its future.
The current ESB-supported exhibition at the National Gallery of Ireland is Anne Yeats: The Everyday Fantastic. This explores the imagination, process and experimentation of the artist and designer Anne Yeats (1919-2001), through an exhibition of selected works from her archive. Admission is free and more information can be found here.
Learn more about the ESB Centre for the Study of Irish Art here.
For more information on ESB's support for the arts in Ireland visit www.esb.ie
#esbbrighterfuture