Charge point network updates
Installation of our first High Power Chargers (150kW)
ESB has begun installing high power chargers (150kW), the first of which are located at Kilcullen, Co Kildare, Carrowkeel, Co Galway and at Portlaoise Plaza, exit 17, Portlaoise. To give customers a chance to try out the new technology, they will be free to use for the coming weeks. We will give advance notice of the introduction of pay per use on these chargers. Below is a photo of our new high power charger at Kilcullen Co Kildare.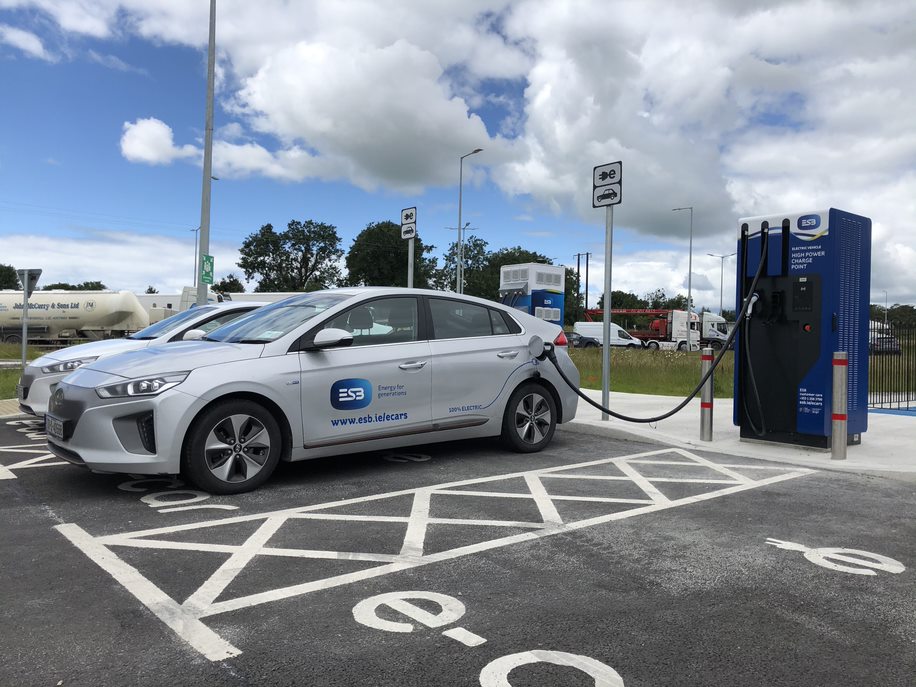 Standard (22kW AC) charge point upgrades
Our charge point replacement programme was able to proceed again following a pause due to Covid-19 restrictions and it now stands at 162 replacement chargers (22kW AC) at different locations throughout the country. A user guide and user video for these standard charge points is available here. The replacement programme will continue over the coming months. Infrastructure uptime on all our network is currently at 96% or higher.
ESB, in partnership with Tesco Ireland, are implementing a nationwide roll out of Electric Vehicle Chargers in 52 Tesco stores in 18 counties across Ireland. Newly installed chargers at Tesco Lucan, Blanchardstown, Rush, Rathmines, Cabra, Swords and Rush, are live and fully operational for public use, with customers already enjoying the benefits. For more information please see here.

Fast charge point upgrades
ESB is continuing to upgrade some of the standard (22kW AC) chargers to fast chargers, with the first ten upgrades found at:

Union Place, Sligo
Promenade Road, Dublin Port, Dublin
Tanyard Lane, Tullamore, Co Offaly
Gordon Place Car Park, Wolfe Tone Street, Clonmel, Co Tipperary
Bolton Square Public Car Park, Bolton Street, Drogheda, Co. Louth
Public Car Park, Rampart Lane, Dundalk, Co. Louth
Farnham Street, Cavan, Co. Cavan
Off Circular Road, Kells, Co. Meath
Public Car Park, Bolton Street, Waterford
St. Canice's Council Car Park, Kilkenny

These charge points currently provide up to 44kW on CHAdeMO and CCS connectors, and between 2-6kW on the AC connector depending on your car type. Click here for a user guide on how to charge your EV using this type of charger. Below is a photo of our upgraded fast charge point installed at Dublin Port.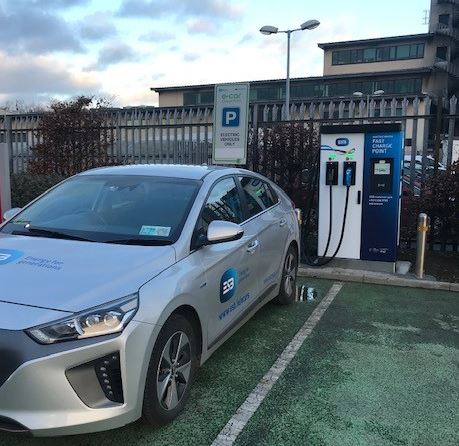 These upgrades are part of an overall €20m investment in renewing and expanding Ireland's electric vehicle (EV) public charging network by ESB ecars, supported by the Irish Government's Climate Action Fund. The €20m investment is 50% financed by the Government's Climate Action Fund with the remainder funded by ESB.