On average, two homeless people pass through the Mater Hospital's Emergency Department every day. That adds up to 730 people per year.
Homeless patients are some of the most vulnerable that come through the hospital's doors and they often arrive with little more than the clothes on their backs. It was the Mater's Social Work Department that first realised another way to care for them through providing clean and warm clothes to leave with.
In 2015, this idea became a reality when, through the support of private donations, the project was piloted in the hospital. Clothes, shoes and toiletries were packed in waterproof rucksacks and given to those most in need.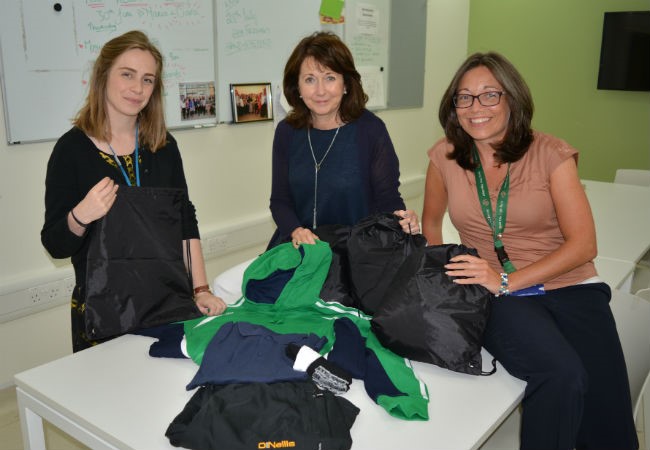 Pictured is Lydia Bentley and Mary Moorhead of the Mater Foundation alongside Julie Wynne opening the newly delivered clothes packs. Photo: Mater Foundation.
Funding Matters
Considering the success of the first phase of the project, the Mater Foundation approached ESB Energy for Generations Fund for a grant to purchase more, and with €3,000 generously donated by the fund, the Social Work Department now has 100 new waterproof clothes packs in store. These clothes are particularly important during the winter months when temperatures can plummet around Ireland and the appropriate clothes are an absolute necessity.
"The packs provide a clean, warm and new set of clothes along with a waterproof bag to carry around belongings, where previously patients may have had to use a plastic bag. The introduction of the packs has enabled us to provide dignity, self-respect and invaluable practical support to the most vulnerable of our patients in an attempt to alleviate some of the stigma and difficulties they face on a daily basis," said Julie Wynne, Senior Medical Social Worker in the Mater.
Essential Items
The Social Work Department provides essential assistance to thousands of patients each year, offering items such as meal vouchers, travel expenses, clothing and general comfort for them and their families.
Mary Moorhead, Chief Executive of the Mater Foundation said, "We are extremely thankful for the ESB fund's contribution to the Social Work Department. When we think of patient care, we don't often imagine the circumstances of homeless people, who often enter the hospital with nobody else to rely on. Although the packs are small, they make a massive difference to those who leave with them."
You can further help the work of the Social Work Department by donating directly to it by contacting the Mater Foundation on 00353 1 830 3482 or at www.materfoundation.ie
*This blog post was initially published on www.materfoundation.ie.