Ireland's unique position on the edge of the Atlantic offers ESB the opportunity to leverage the strength of wind energy, both onshore and offshore, which is crucial in Ireland's transition to a renewable energy future.
Grousemount Wind Farm, operated by the wholly-owned subsidiary of ESB, Kerry Wind Farm, is the latest milestone in building a renewable energy portfolio for the country.
Once fully completed, Grousemount will be ESB's largest onshore wind farm, providing 114MW of power from the 38 wind turbines at the site. This generation capacity will have the ability to power more than 70,000 homes, farms and businesses across Ireland, further demonstrating our ambition of creating a low carbon future based on clean, reliable and affordable electricity.
Engineering one of Ireland's largest wind farms
The development of large-scale renewable projects such as Grousemount Wind Farm requires significant investment, close collaboration with suppliers and contractors, and most importantly, the support of surrounding local communities.
In 2017, construction at Grousemount commenced with the development of a new 110kV substation located within the site and a new underground 110 kV cable to connect the project to the national grid in nearby Millstreet, Co. Cork – at 31.5km, it is one of Ireland's longest high voltage underground cables.
Main contractor's Siemens Gamesa, Carey's, Kirby's and NKT worked throughout the project to produce a high-quality wind farm construction across rugged and mountainous terrain.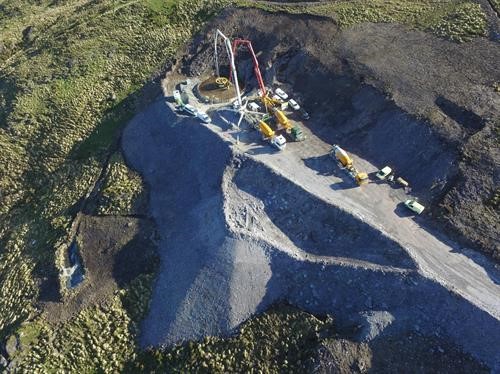 Irish engineering firm, ByrneLooby, was also contracted to carry out geomorphology and geological surveys to assess the site of the wind farm, which resulted in a detailed geotechnical design and advise on any changes required to mitigate the risk of impact on the environmental landscape.
Beginning in 2019, the safe transport and erection of all 38 turbines, with a maximum dimension of 126m, was carried out from Cork Port, Ringsaskiddy.
John Kelly, ESB's Project Director of Grousemount Wind Farm, said, "this required close collaboration with local communities along the route and we thank everyone involved who made this project possible."

The construction phase
To safeguard the turbine structure, 500m3 of concrete foundation, which was sourced from local quarries where possible, was poured at each point of construction.
At its peak, more than 100 people were employed on-site with the majority carrying out significant civil engineering tasks, including building 26km of new on-site access tracks required to reach each turbine location across South East Kerry – watch the construction phase of Grousemount Wind Farm.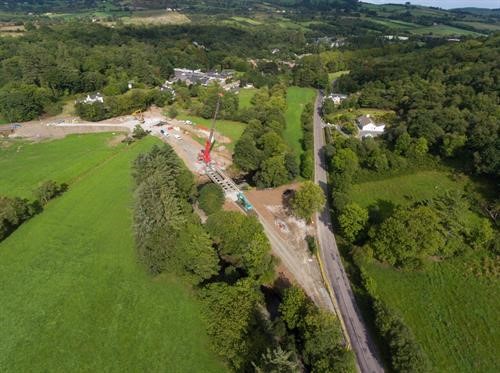 Generation begins at Grousemount
By April 2020, 30 of the 38 wind turbines were commissioned at Grousemount – generating close to 100MW of clean electricity which is being dispatched to our national grid. Project Director, John Kelly noted, "This 100MW of generation has given renewables on the national grid a significant boost to allow wind generation break records during Q1 2020 to become the dominant energy source on the grid for the very first time. The team at Grousemount are very proud to be a part of this record-breaking feat." Grousemount is now the country's second largest wind farm.
The remaining Siemens Gamesa turbines were erected, but due to Covid-19, completion work and energisation have been postponed.
Providing lasting support for local communities
Grousemount Wind Farm will deliver clear and lasting benefits to the surrounding community by continuing to actively support local initiatives throughout the development and construction phases of the project.
Kerry Wind Farm has established a Community Fund, valued in excess of €150,000 per annum, at a combined total of €4.2 million, which will be made available for the 25-year operational lifetime of the wind farm.
Independently administered by the South, and East Area Development Partnership CLG (SECAD), the first round of funding was made available when electricity generation began at the site.
To ensure that communities directly neighbouring Grousemount Wind Farm benefit most from the fund, an Area of Benefit, with a radius up to 10km around the location was established, which will provide support to the following:
Registered charities
Community development groups
Tidy town committees
Sports, and recreation clubs
Primary, and secondary schools
Others
In addition, throughout the development and construction phase, a separate special fund was in place to support community groups and charitable organisations based in areas near construction works and transport routes.
The project community liaison officer, Diarmuid O'Sullivan highlighted the strong relationship built up with local groups and the benefits for both ESB and the local community, "While there was some disruption to local communities and people during the two-year construction period, the construction fund allowed impacted local initiatives and groups to be supported by the overall project. However, the real legacy of the Grousemount Wind Farm is the large 25-year community fund which will support community development long after the construction work has been completed."
Some of the projects to date which have been supported include:
Coolea National School
Ballyvourney Day Care
Kilgarvan Cenral School
Glen Developers Committee
Coolea Tidy Towns
ESB strongly believes in informing and educating young people about the future of energy and the environment. As a result, various educational programmes for schools and other interest groups within the communities surrounding Grousemount Wind Farm have taken place. These programmes are run by ESB qualified engineers, range from wind farm tours to off-site presentations and workshops, covering all aspects of the renewable wind energy industry.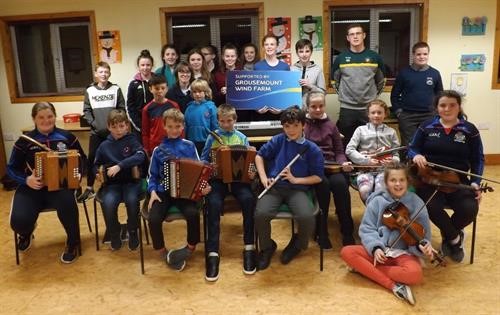 Leading the energy transition with onshore and offshore wind
Through innovation, expertise and investment, ESB is leading the way in developing a modern, efficient electricity system that is capable of delivering sustainable and competitive energy supplies to our customers with wind energy playing a vital role in this transition.
According to the Sustainable Energy Authority of Ireland, wind energy was Ireland's number one source of electricity in Q1 2020, overtaking natural gas for the first time. In yet another milestone for the country as it aims to achieve a target of 40 percent electricity demand being met by renewable sources by the end of this year.
ESB currently operates more than 800MW of wind energy projects throughout Ireland and the UK, working towards a target of 2,500MW by 2025.
To meet 2030 targets in line with the Government's Climate Action Plan, Ireland needs to double its onshore wind capacity to meet the country's growing electricity needs, with projects like Grousemount Wind Farm and Oweninny Power playing a leading role in trying to achieve this target.
To learn more about how ESB is leading the transition to a low carbon future – click here.