Hydrogen is expected to play a key role in decarbonising Ireland's transport sector in the coming years, with hydrogen fuel cell technology particularly suited to heavier passenger and goods vehicles.
ESB is delighted to be part of a new, in-service, trial of a fuel cell electric bus in the Dublin area powered by hydrogen produced by renewable electricity from ESB's iconic Ardnacrusha power station. Co-ordinated by Hydrogen Mobility Ireland, this is the first ever Hydrogen Fuel Cell Electric Vehicle (FCEV) put into public service on the Island of Ireland.
ESB Senior Manager, Hydrogen, Aodhan McAleer says that ESB is proud to be part of this milestone trial: "It is fitting that the fuel is being produced by electricity from the Shannon Scheme, a project that had a transformative impact on the nation when it was commissioned over ninety years ago. This is cutting-edge technology that promises to make a huge contribution to Ireland's climate goals in the 2020s, specifically in the transport sector.
"Zero carbon hydrogen produced by ESB's growing portfolio of wind and solar generation is a key part of our Brighter Future strategy powered by renewable electricity. Green renewable hydrogen enables the further electrification of transport, allowing the full decarbonisation of the transport sector, as well as improved air quality as the technology replaces diesel buses across Ireland."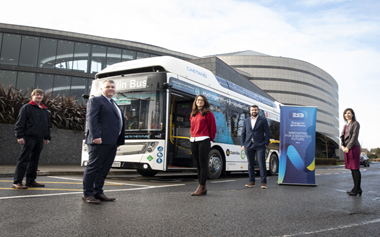 Caetano 'CityGold' Prototype Bus
The zero emissions Caetano 'CityGold' prototype bus (pictured), powered by a 60KW Toyota fuel cell stack, is running on hydrogen produced by BOC Gases using electricity produced from the Shannon and water. The fuel cell electric bus is refuelled in minutes similar to a conventional bus. Its electric motive power is obtained when the Hydrogen molecules from its fuel are combined with oxygen molecules from the air in the Toyota Fuel Cell. This HMI organised trial has been running since early November 2020 and will end just before Christmas, providing valuable information on the practical operation of the technology in varying weather, usage, and traffic conditions.
It is particularly significant that the vehicle in this first trial, in conjunction with the Department of the Environment, Climate and Communications, is a bus that is being trialled on different routes by Bus Éireann, Dublin Bus, Dublin City University (DCU) and Dublin Airport over a number of weeks in November and December 2020, albeit carrying limited passengers due to the current Covid restrictions.
Hydrogen Mobility Ireland
ESB has been actively engaging with Hydrogen Mobility Ireland, a partnership of businesses from across many sectors, together with public sector and academic stakeholders, with all-Island cooperation, joining together to deliver a coordinated approach to the introduction of this cutting-edge technology to ensure that Ireland can benefit from being an early starter in this solution to further decarbonise transport using renewable energy.
Worldwide, given its storage capabilities, it is increasingly recognised that hydrogen produced from renewable electricity will have a significant role to play in the decarbonisation of many other sectors of the economy.
Aodhan concludes: "ESB will use our existing capabilities and future renewable growth to become a leader in large scale renewable hydrogen production , thereby enabling renewable electricity, in the form of electrons or green molecules, to meet the energy requirements of Ireland's future zero carbon economy."