People of ESB is a 12-part series documenting the lives of ESB staff across our various business units. This month, we meet Philip Kelly, an Employee Engagement and Communications Specialist on ESB's Customer Solutions team. Philip is a founding member of BeMe@ESB, a group which provides Ally training to support LGBT+ employees at the company. Learn more about BeMe@ESB here.
What's your role in ESB?
I am an Employee Engagement and Communications Specialist, working within the Employee Engagement and Communications team, supporting the Customer Solutions business unit and the wider company.
I am responsible for the planning, development, execution and ongoing evolution of internal communications and engagement strategy across the business, to meet the needs of the different stakeholders within the business unit and with appropriate alignment with centrally coordinated people initiatives and external ESB communications.
How long have you worked in ESB?
I am nearly three years in this role. Prior to this role I held positions in Electric Ireland, from marketeer to customer research. I also spent time as the Business Sale Support manager in Business Markets. All my roles have been customer-facing from the very start of my career. Now, my focus is on our employees and how we can do better together, guided by our values and our Brighter Future strategy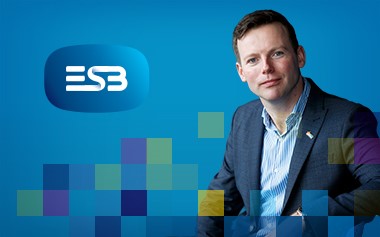 What were your expectations when joining ESB?
When I joined ESB I came directly from college, in all honestly, I wanted a fair employer for fair pay. At that time my ambition was to save enough money to go travelling, which I did.
On returning from travelling and reapplying to ESB my expectations changed. I wanted an organisation where I could be myself and, more importantly, where being yourself was an asset and not a hindrance. I wanted an organisation that would reward hard work and commitment with organisational support, through growth, mastery and autonomy. I feel I got this with ESB. I have been supported and encouraged and I have grown both professionally and personally.
Has anything surprised you about the company since joining?
The scale of ESB continues to surprise me. I am always learning more about the organisation, what we have done, what we are doing, and more importantly what we plan to do by leading the way to a low-carbon future. The scale and ambition of ESB is impressive and commendable.
Apart from working from home, how has the last year affected your day-to-day role?
My role changed dramatically since Covid-19. At the beginning, communications played an integral role on the transition to remote work. The workload increased massively, and with this came many challenges and opportunities.
I have learned so much in the last 18 months, it's been exhausting and rewarding! I like working from home, for me personally I feel I am more productive and I feel a sense of accomplishment at the end of the day.
I appreciate that everyone's experience is different and I am mindful of colleagues who may be struggling with the transition. I think ESB's approach has been spot on and very welcomed by employees.
Can you describe yourself in three words?
Driven, caring and resilient.
What has the pandemic and working from home taught you?
I have become more grateful and aware of my privilege. When we see how Covid-19 has impacted those less fortunate, it really hits home how lucky we are. I have also learned that when our back is to the wall we can collectively adapt and not only survive but thrive. It's amazing to see that the company adapted so quickly to keep the show on the road for our customers. It's testament to ESB's ability.
What are you most looking forward to this year and beyond?
I am most looking forward to a holiday. A sun-drenched beach and a week or two of no video calls, no emails and no webinars. I am also looking forward to a vaccine for myself and my remaining family, friends and co-workers.
What advice would you give a graduate starting their career in ESB?
My advice to a graduate a starting their career is to be themselves. Bring their whole self to work and understand that diversity and difference is not just accepted but it is celebrated. Be the best that you can be as your true authentic self. I would also say, to learn from your colleagues, learn how the business works and do not be afraid to ask questions. We all learn from each other and this never stops, no matter what stage of your career you are at.
Does your work align with ESB's purpose and values?
Yes, ESB's purpose and values are deeply ingrained in the work that I do. As a communications and engagement specialist, my role is all about connecting employees and all that we do back to our values and our purpose. This is very rewarding as I truly believe in the purpose of leading the way to a low-carbon future and how our values will guide in doing this.
Also as a founding member of BeMe@ESB I can see directly how ESB's values are put into action. BeMe@ESB is an LGBT+ employee resource group who advocate for an inclusive organisation through Ally training. In my work on this group I see ESB's values of caring and courageous at play - caring not only for the LGBT+ ESB community, but also sending a clear message to our customers and communities that we value inclusion. I am very proud of the work I do on this group along with my BeMe@ESB colleagues and Bernie O'Connor, the Diversity and Inclusion Lead.
What do you wish you knew then that you know now?
I wish I fully understood how the invisible apparatus of connections and networks worked. ESB is all about relationships, the sooner you understand how to create, foster and manage authentic relationships in the organisation, the quicker you will understand how the business operates. There truly is a goodwill that exists among employees, we are happy to help each other and happy to lend our expertise where needed. I think for someone starting in the organisation the best thing they can do is be authentic, reliable and open to creating meaningful connections with their colleagues.
For people who want to join your field of work, what three things should they know?
Be prepared to work hard.

Always be inquisitive and curious about the business.

Be reliable. Simply do what you said you would do when you said you would do it. But on the other hand, don't be afraid to set realistic expectations.
Follow People of ESB on social using #PeopleofESB