Sinead hails from Athlone, Co Westmeath and studied civil engineering at the University of Galway. She shares her experience of ESB's Graduate Development programme including working in confined spaces and mapping her next role.
How did you find out about ESB's Graduate Development programme?
I attended my university's graduate careers fair at which ESB had a stand. I spoke to a former University of Galway mechanical engineering student who was then part of the programme. I learned about the various team rotations to gain experience in different engineering areas as well as the training and mentoring system on offer.
What is the graduate programme like?
I joined ESB in September 2020 in the civil engineering stream. Due to COVID restrictions, all graduate training for the first two years was online. This is now back in person.
As part of the graduate programme, there were two rotations of teams for engineering graduates, as well as training in various areas including ESB Networks, Safe Systems of Work (ESB Station permitting rules), Engineers Ireland Technical Training and Commercial and Contract Management training. All graduate engineers completed the TU Dublin accredited certificate in Professional Engineering, which is a Level 9 certificate.
One of the events organised as part of the programme included a trip to Ardnacrusha Generating station, the birthplace of ESB, during an overhaul. This was a great way to learn about the various mechanical and electrical aspects of a turbine while also understanding the vast amounts of civil engineering construction and design that were, and still are, involved in the Shannon Scheme.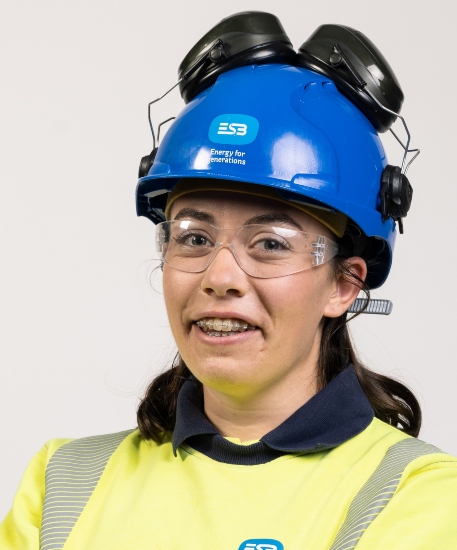 What is the most interesting part of your roles to date?
The first team I was placed with was onshore wind in the renewable projects team where I assisted with planning documentation, route planning, site investigations and various other documentation.
I rotated to the civil works team at Ardnacrusha Generating Station and have been based in the station since. My work involves ongoing supervision and maintenance of Ardnacrusha Dam, as well as the associated infrastructure connected with the Shannon and Lee Schemes.
As part of my role, I assist with flood forecasting which is used to coordinate station operations. Safety on site and dam safety is important. Therefore, I regularly check instrumentation readings that monitor the concrete dam and embankment. I have carried out bridge and building inspections on land and by boat, as well as penstock and draft tube inspections at Ardnacrusha, and the Lee stations (Inniscarra and Carrigadrohid Dams). To carry out these inspections, I was required to undertake working over water, confined spaces and working from height training.
I create the technical specifications for any repair works required and oversee the works once they commence on site. This role has given me a great understanding of how a power station operates and how the various civil, mechanical, and electrical teams coordinate to complete jobs safely. It has also given me great experience in the areas of site and dam safety, hydraulics, hydrology, geotechnical engineering, structures, civil works, and project management.
What do you plan to work as after the programme?
I plan to move to the Hydro Team in the Civil Engineering division within ESB's Engineering and Major Projects division where I will assist with the technical projects that will take place at our various Hydro locations including on the Erne, Liffey, Lee, and Shannon Schemes, and Turlough Hill. I am really looking forward to learning more about the civil aspects of the various hydroelectric plants within ESB and transferring the knowledge that I have learned on site into my new design role.