People of ESB is a new 12-part series documenting the lives of ESB staff across our various business units. This month, we meet Aodhan McAleer from ESB's Generation and Trading team. Aodhan's commitment to a brighter, zero-carbon future is put to the test every day in his challenging role as hydrogen manager. Here, he outlines why he relishes a challenge as an engineer and how an organisation such as ESB keeps him on his toes.
What's your role in ESB?
I work in Strategy as part of the Generation and Trading business unit - it's very different from previous roles, thought-provoking and involves looking forward to a carbon-zero future and navigating a path to reach this challenging goal.
What were your expectations when joining ESB?
I work in strategy as part of the Generation & Trading business unit - it's very different from previous roles, thought-provoking and involves looking forward to a carbon-zero future and navigating a path to reach this challenging goal.
I have now been tasked as hydrogen manager to lead ESB into the creation of a Green Renewable Hydrogen Economy; it is something I passionately believe will be part of an intricate future energy mix, and is required following energy efficiency and direct electrification, to achieve a decarbonised Ireland.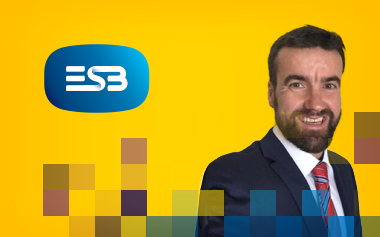 Has anything surprised you about the company since joining?
I'm surprised by the speed of change in ESB. It has become a dynamic and agile organisation and has proven an ability to move extremely fast when required in the highly commercial and competitive world that it now operates in.
It's a friendly and social place to work and everyone has pride in what they do and a desire to deliver for our customers and the nation when it matters. There is also well-established integrity and everyone strives to 'do the right thing' and maintain the trust that we have been bestowed.
Apart from working from home, how has Covid-19 affected your day-to-day role?
I live in Westport, Co Mayo and worked between Mayo and Dublin pre-Covid for several years so the transition to a remote work environment proved to be a short step. ESB had a very robust IT system which has been further improved so the virtual experience works well. The majority of my role is external facing and virtual smart working has made it easier to interact with a wider diverse network across geographical locations.
I am a people person, so I do miss the personal contact and 'craic' that was a key part of work, however, I do not miss the weekly commute to Dublin and family life has improved. As I often tell people, this new normal (WFH), feels much more normal than the previous normal!
Can you describe yourself in three words?
Honest, driven and fortunate.
What has the pandemic and working from home taught you?
Covid has taught me a lesson about best-laid plans, 2020 was a lot different than anticipated!
I somewhat naively believed that the modern world would not experience a worldwide pandemic and our advances in technology would mitigate any effect, it has been nearly a year since I last saw my office desk in Dublin, I was very wrong! It's also intriguing what has now become important and how priorities have changed. And my hair grows much faster than I ever realised.
Working from home has some negatives and can feel intense at times, especially when we experience meeting overload. However, in general, I think it has created equality of experience across the organisation, your geographical location is now irrelevant, and we have made amazing strides towards a smart working culture.
What are you most looking forward to this year and beyond?
Post-Covid, the road to carbon net zero by 2050 is an exciting challenge, the solutions beyond renewables are complex and diverse. I believe ESB has an important role to play and can help lead Ireland through this energy transition, and it's exhilarating to be involved in this change.
Decarbonisation often reminds me of JFK's go to the moon speech "…we do these things….. not because they are easy, but because they are hard…", this revolutionary energy transition is every engineer's dream.
What advice would you give a graduate starting their career in ESB?
Move, don't get too comfortable, challenge yourself and the company and most of all, just be yourself, the company values the diversity of thought.
What do you wish you knew when you took on the role in ESB that you know now?
Don't sweat the small things, follow your passion and the ideal role will appear. Technology may be the enabler, but people are the key. When you think you know the answer, make sure you understand the question! Take the time to talk to your customers, they know what they want.
Follow People of ESB on social using #PeopleofESB