Alicia O'Sullivan, ESB TechSpacer of the Year 2018, shares how TechSpace helped her find her voice, and drive social change using technology and digital creativity
In these unprecedented times we are all using our phones, laptops, and other types of technology to keep in touch with friends and family. Many of us use technology for other reasons, in order to keep ourselves occupied. In 2018 I began working with YMCA Ireland in my hometown of Cork, and started to develop my digital media skills to drive social change. I started learning how to create with purpose.
You might say 'What do you mean by creating with purpose'? I mean exactly that, using social media and digital media for a greater purpose. I learned about videography, photography, and topics like the sustainable development goals and cyber security, and most importantly, I learned about how valuable it is for young people to have a voice and make it heard.
Importance of TechSpace
TechSpace allowed me to continue to pursue my growing curiosity for digital media and strengthen my abilities. I went to my first ESB Creative Tech Fest Event at Google Headquarters in October 2018, and as someone who wouldn't have labelled myself as 'creative' or highly tech savvy, it was definitely a surprise to hear my name called out as the winner of the ESB TechSpacer of the Year Award 2018 for my submission 'I care', which captured my passion for social advocacy and showcased the use of social media to drive positive change.
Although I learned so much from that experience, and received a fantastic yearlong mentorship with ESB, the best prize I received was learning that STEAM (Science, Technology, Engineering, Art and Maths) isn't the exclusive black and white path I thought it was. It's about creativity, imagination, exploration of individuality, and it is really for everyone.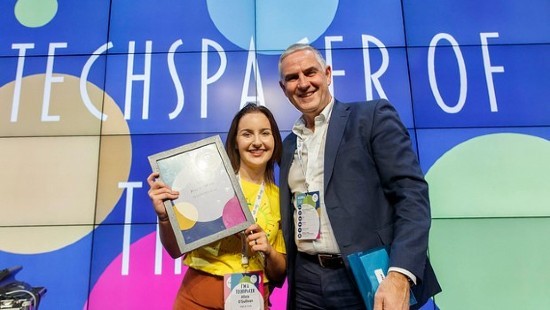 Not only did it open so many opportunities for me, but it helped me to engage in something I never would have otherwise and opened my mind to possibilities I had shut off because of formal education. The inclusive and fun dynamic that TechSpace has created for young people around Ireland to be themselves in every capacity is truly remarkable, and I would encourage every young person to test their boundaries and get involved. Whether your passion is music, photography, coding, or whether you don't know yet, there is something for everyone!
TechSpace is a national movement that provides opportunities for young people across Ireland to be creative using technology and STEAM, allowing them to create and make with purpose, and inspire the future.
To find out how you can get involved, visit www.techspace.ie