At ESB, we celebrate inclusivity in our workplace; created by our people, this positive environment allows equal opportunities for all.
While our proud culture of respect, dignity and fairness can be seen across our businesses throughout the year, Pride provides our employees with a unique opportunity to celebrate equality, diversity and inclusion.
An inclusive workplace culture is even more important now, as for many in society, our daily place of work has changed. We are continuing to learn and adapt to new ways of supporting our friends and colleagues by staying connected, while staying apart.
We're Caring
Inclusion is rooted in our values at ESB.
We're caring – as we lead the transition to create a brighter future for the customers and communities we serve; we want to have a lasting, positive impact on society and that starts with our people and in our workplace.
Our commitment to working towards a consciously inclusive place of work is key to creating an environment that fosters innovation, employee engagement, creativity and the collaboration required to power this brighter future for all society.
A culture of inclusivity
At ESB, we believe that having an inclusive workplace benefits all of our people, our customers and the communities we serve.
To achieve this, ESB has set out clear areas of focus – Gender, LGBT+, Ethnic groups, Disability and Family.
There are a number of key strategic programmes in place at ESB such as ESB's Traineeship Programme, in partnership with AHEAD, which is supported by each business unit in ESB, providing participants with an opportunity to work in the energy market. The programme also helps to raise awareness of the challenges in the modern business environment for people with disabilities through mentoring and training programmes.
ESB's Managing Successful Parenting Transitions programme has also been recognised externally, receiving the 2019 PWN Gender Balanced Leadership Global Award – Training Initiative. PWN Global is a network of professional people committed to accelerating gender balanced leadership in business and society.
BeMe@ESB
A further demonstration of our commitment to creating a truly diverse and inclusive workplace was shown in establishing BeMe@ESB – ESB's LGBT+ Employees & Allies Network in 2016.
ESB's network of both LGBT+ and non-LGBT+ colleagues aim is to ensure that anyone who is LGBT+ can bring their whole self to work, every day.
Sarah Claxton, ESB Organisation Development Manager highlighted the significance of this initiative, "It is really important to have our BeMe@ESB group in operation. Our values are to be courageous, caring, driven and trusted. This is what ESB has always been about, what we have always stood for and we are using those values now to define and shape our culture. At the heart of that culture is inclusion."
Become an Ally
An Ally is an ESB employee who proudly supports LGBT+ colleagues, is committed to raising awareness, creating a caring environment and ensuring that ESB is an inclusive place to work.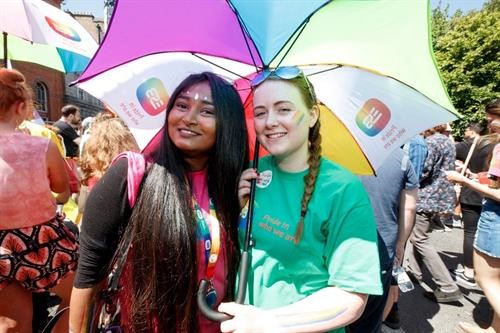 "We've built a network of allies and it is something that makes me really proud. It is about inclusion, basic fairness and allowing people to grow and develop to be the best they can be at ESB." Jim Dollard, ESB's Executive Director, Generation & Trading and also, ESB's Executive Sponsor for LGBT+ Inclusion in the Workplace and member of OUTStanding Ireland Executive Sponsors.
An Ally can be LGBT+ or non-LGBT+ and can become a member of a network that is making a real difference across ESB in a variety of ways to help shape our culture and create a brighter future for our employees and society.
Learn more about our Ally network here.
Aidan McNally of ESB International described the impact that joining the network has had on his workplace experience, "The benefits I have had from joining the Ally network has been to gain a better understanding of the issues facing LGBT+ people in the workplace, getting more comfortable with the language and being able to support individuals."
Celebrate Pride differently again this year
While one of the key celebrations every year for ESB and our network of allies is participating in Pride, our BeMe@ESB Network is active all through the year including Ally Awareness Programmes. Once again, we have shifted all our activities online with a number of in-house events planned such as Pride Quiz, Ally Awareness Programme.

ESB are long time partners of BeLonGTo through our Energy For Generations Funding. For one of our Pride events we welcome Oisin O'Reilly, BeLonGTo who will share insights and impacts of the amazing work they do to support young LGBTI+ Community.

Dave Brazil, Dublin Bay Power, Generation and Trading at ESB described the significance of our support of the festival, "For such a massive organisation, which is woven into the fabric of Irish life to be involved in Pride – it's so important".

ESB is a proud Pride partner of the 2021 Dublin LGBTI+ Pride Festival to celebrate community, inclusion, diversity and equality.

Due to Covid-19 restrictions, Dublin Pride will once again be taking place digitally this year. The fully interactive virtual Pride Parade and Pride Concert will be free to join and will help bring Pride home on Saturday 26th June,

To get involved or for more information visit: https://dublinpride.ie/