Michelle Maher, Head of Education at Cool Planet Experience, shares how important STEM is in equipping young people with the skills required for the future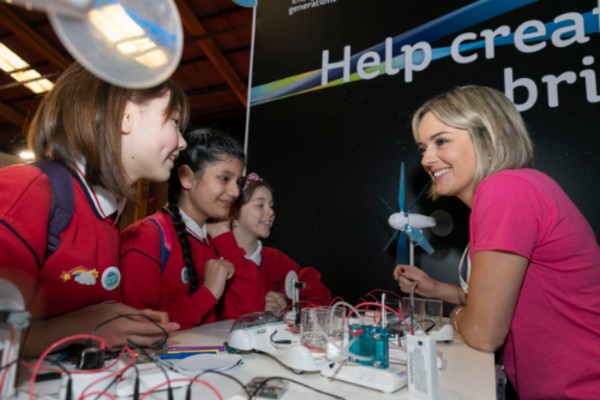 COVID-19 has really highlighted that we live in both a rapidly changing and increasingly complex world. More than ever, it is essential for our young people to possess the skills to solve problems, analyse information, and gather and evaluate evidence to make decisions. STEM (science, technology, engineering and maths) education is the gateway to 21st century success, forming the foundations for critical thinking, creativity and innovation. Of course, not all students will go on to pursue careers in STEM, but all students should have access to quality STEM education, as it increasingly pervades every part of our lives.
ESB, through the Generation Tomorrow programme, plays a crucial role in supporting our young people to develop scientific literacy and critical thinking skills through programmes that encourage curiosity and discovery. We at Cool Planet Experience are proud to call ourselves partners of ESB, working together to inspire future innovators and active change-makers.
An inquiry-based learning approach
At Cool Planet Experience our education programmes provide the highest quality STEM experience for both learners and educators. We have developed an inquiry-based learning approach to ensure that young people acquire relevant information about the natural sciences, but also, and more importantly, enhance their ability to solve complex problems. Through our programmes and workshops, children work collaboratively and creatively to design solutions to real world problems such as low carbon technologies and climate change.
It is also really important that we make it a fun learning experience for them. When children are engaged and curious, they want to find out more. With greater curiosity, children are willing to take information and use it to form opinions about the world. In that way, curiosity will drive future innovation.
Access to STEM for all young people
I believe all young people across Ireland should have access to a world class STEM education – teachers, parents and our communities as a whole are key to this. We are working to achieve this by making it easy for teachers and others involved in STEM education to effectively implement inquiry-based learning in the classroom. Teachers are actively involved from the outset and we provide access to professional development and teaching resources. Teacher confidence in STEM subjects is often cited as a barrier to effective implementation, so in order to bring about real change in this area we need to support our educators. By working closely with our teachers, we can have a broader impact on a wider range of students directly. Developing and implementing quality STEM learning is challenging, but through quality inter-disciplinary practice and collaborative partnerships we can achieve long-term national sustainability and measurable impact.
I think now more than ever we are seeing that educating our children really is everybody's business. While technology has played a critical role in terms of replacing our physical classrooms, we definitely realise the value of face-to-face instruction and the role our teachers play in this. We should look to support our educators with excellent digital resources, continue to support learning outside the classroom and keep parents involved throughout this experience. Our shared common goal will ensure our young people are ready for a 21st century workforce and develop the skillset required for this.
To find out more about the Cool Planet Experience, visit www.coolplanetexperience.org
Michelle Maher, Head of Education and Public Engagement at Cool Planet Experience:
Michelle Maher MSc (Chem), leads Education and Public Engagement at Cool Planet Experience. She is responsible for strategic planning and development of the CPE education programme - a solution focused approach. Michelle's role at Cool Planet Experience brings together input from stakeholders in education, industry and academia to ensure that CPE engagement is evidence-based, relevant and has the capacity for scale and impact at a national level. She has extensive experience in this area and is particularly interested in evidence-based engagement that focuses on climate change being incorporated into everyday narrative. Michelle holds a Bachelor of Arts (Mod) Natural Science and a Master of Chemistry (Research), both awarded from Trinity College Dublin. She also holds a Trinity College Dublin postgraduate award for academic excellence. Michelle has over 15 years' experience in teaching science and science education at all levels in education (primary, second and third level). She has successfully managed, designed and implemented a number of government funded STEAM projects both in the classroom and community based public engagement with impactful evaluation outcomes. Michelle has developed and delivered a number of Dept. of Education approved continuous professional development (CPD) programmes in the areas of teaching and learning in Primary Science, Inquiry Based Science Education, NCCA Primary Coding Initiative, and Junior Cycle Geography elective CPD module in sustainability.