ESB Science Blast, delivered by the RDS, is a non-competitive programme for primary school classes that invites children from across the island of Ireland to investigate the science behind a simple question that interests and excites them, such as:
• Why are sugary foods more appealing than healthier ones?
• An féidir leat rith níos tapúile le cosa fhada?
• How can skyscrapers be built so high?
• Cén baint atá ag deochanna coipeacha ar fhás plandaí?
Science is everywhere and in everything. Its importance in our everyday lives has never been more evident as we continue to respond to Covid-19. In what has been a challenging 12 months, children are more curious and asking more questions than ever before.
This is where ESB Science Blast comes in – empowering children to discover the 'why' behind their questions. Any question that can be investigated by predicting, measuring, counting or observing is valid. Though some questions can seem straightforward, the answers can be the most complex and we all have a role to play in encouraging children to explore and question the world around them, especially the world of STEAM (Science, Technology, Engineering, Arts and Maths).
ESB Science Blast does just that – it is not about finding the right answer, it is about helping our problem solvers of the future to showcase their natural curiosity, wherever their classroom is.
The Generation of Tomorrow
Since its foundation, ESB has always had a strong sense of purpose. Today, ESB's ambition is to help create a brighter future for all by leading the transition to reliable, affordable, low-carbon energy powered by clean electricity.
This is a future that will require creative and innovative problem solvers. That is why ESB's Generation Tomorrow programme is supporting partners that are dedicated to empowering young people to reach their potential and power their collective brighter future that encourages curiosity and discovery.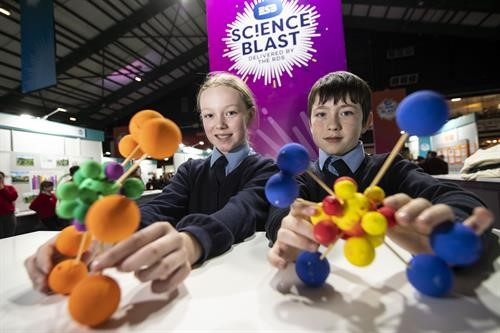 ESB is investing more than €7.5 million in our Generation Tomorrow programme to support the work of partners including RDS, TechSpace and MaREI Institute.
ESB Science Blast is a key initiative of this, providing young people with the scientific literacy and critical thinking skills, gained through engagement and exposure to science at an early age, that will help them to develop in the future.
Support of the RDS
Without the support of partner organisations like the RDS, ESB's goal to help equip young people with the skills they need to thrive in 21st century society could not be realised.
Since 1731, the mission of the RDS has been to contribute to the cultural and economic development of Ireland – working in science education is just one way in which it fulfils this mission.
Developed and managed by the RDS, ESB Science Blast continues to be operated on a not-for-profit basis. The RDS is also a leading funder of the initiative, which aims to reach 65,000 primary school children over five years.
Amy Harrington, Science & Technology Programme Manager at RDS shared her views on the importance of the programme for the long-term development of STEM in Ireland: "We don't know what the world will be like for the next generation but we have to prepare them for it today. We do this by equipping them with the fundamental skills of critical thinking and creativity that STEM naturally instils. The RDS has a long history of working in STEM education, which we are very proud of. ESB Science Blast is the latest iteration of this work; this programme encourages the development of critical STEM skills, scientific literacy and broadens the understanding of the possibilities of STEM in primary school children. We are delighted to have the support of ESB as title sponsor, helping us to grow the programme and increase its impact by engaging primary schools across the whole island of Ireland."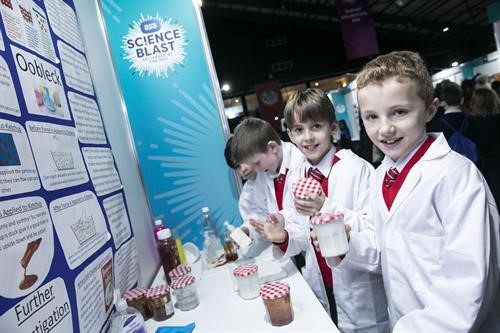 A Year On
More than 12,000 children from schools across Ireland participated in the ESB Science Blast showcase event at the RDS, Dublin in early March 2020. Lá speisialta do Ghaelscoileanna agus do scoileanna Gaeltachta, a showcase event delivered fully through the Irish language, showcased project work from 67 Gaeilscoileanna from 19 counties.
There were some incredible investigations from schools on show at the event, helping to find the answers to everyday questions, including:
• How many helium balloons would it take to lift a house? St. Patrick's NS, Greystones, Co Wicklow
• Does listening to your favourite singer affect productivity levels? Scoil na Naomh Uilig, Newbridge, Co. Kildare
• What causes a nail to rust? St. Finian's NS, Bagenalstown, Co. Carlow
• How clean are your hands? Scoil na Coróine Mhuire, Ashford, Wicklow
Unfortunately, due to Covid-19, the remaining ESB Science Blast showcase events in Limerick and Belfast, scheduled for May and June 2020 respectively, were cancelled.
ESB Science Blast is back for 2021
We are delighted that ESB Science Blast is returning this year.
While unfortunately, the showcase events cannot take place in person, there are lots of ways for classes to get involved online; from using bespoke lesson plans to guide class investigations to getting inspired by ESB Science Blast TV, which will be broadcast directly into classrooms around Ireland from 27th April.
Classes can get involved now and develop their scientific knowledge by working on investigations while improving core skills such as collaboration, creativity, communication and creative thinking, or wait to use ESB Science Blast TV to get inspired with ideas for their investigations.
Class investigations must be submitted by 21st May.
Each class will be paired online with a STEM 'judge' to discuss their investigation. This is non-competitive with the STEM judges looking to give positive feedback and communicate their enthusiasm with all submissions.
ESB Science Blast is just the first step on the journey to discovering the wonder of 'why' so we are encouraging classes to take part, have fun and celebrate young people's natural curiosity.
To learn more about how your school can get involved, visit www.esbscienceblast.com
You can also follow ESB Science Blast on Instagram, Twitter and Facebook for updates.
#esbbrighterfuture #generationtomorrow