At the end of 2020, ESB became involved in the corporate initiative 'Alliance for Good Ireland' where companies work with selected charities, through technology, to solve a problem for social good.
After reviewing submissions from several charities and not-for-profit organisations, Parkinson's Association of Ireland was successfully selected.
Alliance for Good Ireland partnership
Twelve Irish companies have come together to work with the Parkinson's Association of Ireland including ESB, Microsoft, Kingspan, Bank of Ireland, AIB, Aptiv, RTÉ, Mayo County Council, Oireachtas Ireland, Novartis, DCU and Pramerica.
Over the last couple of months the team, which includes ESB staff members, has been working on a bespoke portal concept for the organisation that culminated with a three-day virtual hackathon in March.
During the hackathon a portal was developed with the concept of taking health information from a wearable smart device, analysing it and making it available to clinicians. This also offers insights into Parkinson's condition, as well as creating a one-stop location where there is the opportunity to link into a wider support network and build a community to stay connected.
The hope is that this portal will help clinicians make earlier diagnosis and help manage the symptoms for Parkinson's patients, as well as finding a way to help support people living with Parkinson's disease.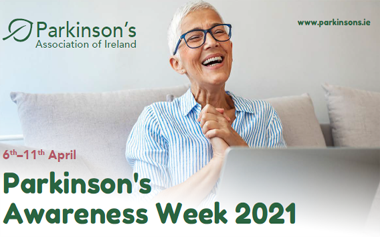 Awareness week
Parkinson's Awareness Week 2021 takes place from the 6 - 11 April, with the organisation inviting anyone living with, or family of those with Parkinson's to attend their virtual events.
Connect with Parkinson's and you can follow the updates on Twitter, LinkedIn and Instagram using #parkinsonawarenessweek.
You can also show your support by donating online here or support the education and awareness of Parkinson's by buying their labelled face mask here.
If you, or someone you know, would also like to attend the Parkinson's virtual conference on Saturday, 10 April please visit www.parkinsons.ie to find out more.