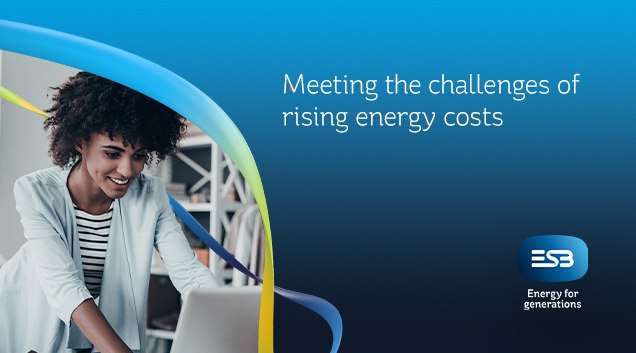 In recent months, we have witnessed unprecedented levels of volatility in the energy market, with wholesale prices soaring to new highs amidst potential scarcity of some fuels. European gas prices continued to rise upwards throughout the second half of the summer and early winter, culminating in a peak during early October 2021 of €5.04 per therm, a significant increase considering prices were below €0.50 per therm in the same period in 2020.
This record higher price trend is indicative of the energy crunch that Europe is facing that is also influenced by political uncertainty, demand for energy returning to pre-pandemic levels and rising carbon prices. This higher price trend, relative to historical averages, looks likely to persist in the medium term and for this reason, it presents a major challenge for businesses in making the correct budgeting and forecasting provisions.
How can large energy users protect themselves from the volatile energy market?
In the medium to long term there are two actions businesses can make to mitigate the impacts of increasing and volatile energy prices:
1) Reduce overall energy usage through energy reduction projects and;
2) Self-generate their own electricity.
Energy Efficiency First
In discussions with large energy consumers in Ireland and the UK in recent months, we have seen a clear pattern emerge. Energy and operational managers have been focused on supporting their organisations in getting through the pandemic and dealing with the added work that this has resulted in. This is particularly the case in the food and manufacturing sectors where changes to processes and additional measures are needed to keep production on-track. This has led to energy-efficiency projects falling down the priority list.
As we exit this phase of the pandemic, now is a good time to look again at the energy efficiency opportunities that are available across your operation and to revisit previous energy audits, or consider undertaking a new one.
Higher project implementation costs are more than likely compensated for by higher energy prices. What may have been considered a long payback a couple of years ago might now be an opportunity that meets your corporate payback hurdle. Energy efficiency activities rarely generate the same level of coverage or excitement that other energy projects do, but, it is the best place to start. Organisations will also find that opportunities in this area are likely to align with their corporate sustainability and carbon reduction targets.
Lighting upgrades, process optimisation, eliminating steam leaks, variable speed drives, smart controls and compressed air upgrades are just some typical examples of projects that fall under the energy efficiency umbrella and that can deliver real and measurable benefits.
Generate your own electricity
Today, more and more organisations are looking at self-generation of energy to decouple themselves from grid pricing, as well as shifting to 'green' gas or biofuels, where possible. This can also be used as a hedge against market volatility, and an attempt to fix costs as much as possible. So how do they do this? There is a range of technologies available today that facilitate self-generation.
Solar-PV
The cheapest and most popular is Solar. A system of solar panels, controls associated electrical components to convert energy from the sun into electricity, typically using photovoltaics (PV). Despite the perception that solar does not work in our temperate climate in Ireland and the UK where the sun certainly does not shine every day, solar can in fact make a lot of sense. This is particularly the case for facilities that have a consistent seven-day electricity usage profile with suitable roofs or available land, in these cases 15% to 25% annual electricity requirement is achievable.
The cost of delivering solar has decreased dramatically (by approx. 82%) in recent years. Nowadays, these assets can last for up to 25 years and should cover the cost of the initial investment in about eight to 10 years. This provides a viable financial return while reducing an organisations' carbon footprint and de-risking its exposure to fluctuating and volatile electricity wholesale market conditions.
One of the advantages of solar PV is its ease of integration into existing facilities, there is no requirement to change operations or impact the production process and, like energy efficiency, the implementation of a solar system can support the sustainability targets of your business.
Solar PV can be attained on a zero upfront capital basis with ESB's Smart Energy Services, which provides finance, project management, delivery, and the ongoing maintenance and operation of the solar system throughout its lifetime, selling back the energy at a discounted and de-risked rate to the end-user.
How ESB's Smart Energy Services can help
Our range of funded and non-funded solutions make financing large-scale projects easy and affordable, speak to one of our energy experts today to find out how your organisation can cut costs while reducing its carbon emissions.