After all the flooding incidents which impacted many parts of the country recently, and in particular Cork in October, many may be wondering how our reservoirs managed the significant levels of rainfall recorded.
Rainfall during October at Cork Airport was 222% of the long-term average, according to Met Éireann, the highest rainfall for the month on record. Storm Babet, on October 18th, brought high-intensity rainfall as one month's rain fell in 24 hours in Midleton, County Cork, leading to significant damage to the area.
The River Lee catchment - feeding our reservoirs at Carrigadrohid and Inniscarra - experienced rainfall that was over 200% of normal levels for the month of October. It did not experience the very high intensity downpours that affected other parts of Cork at times. The reservoirs saw two large rain events, associated with Storms Agnes and Babet; this rain resulted in peak water inflow into the reservoir during Storm Babet of 300m3/s (tonnes per second). It was possible for us to limit the discharge downstream to ~140m3/s by using the reservoir storage.
Impact of Flow Levels
In general, a flow of greater than 150 m3/s downstream from Inniscarra dam will cause flooding of land and, at increasing levels beyond that, will cause flooding of roads and buildings in Cork City.
On this occasion, the surge of 300m3/s could be controlled by the reservoir to keep discharges below 150m3/s (as illustrated below). Using the storage in the reservoirs to lessen the flows in the river provides a benefit to those downstream. However, it cannot prevent flooding from occurring in every circumstance – if enough rain falls, leading to high water inflows for long enough, the capacity of the reservoir storage will be exceeded and high discharges from the dams will occur.
During significant storm events where inflows can be double or higher again than the 300m3/s of Storm Babet for many hours, or when multiple storms occur in quick succession, the reservoirs do not have capacity to store all the inflow and higher discharges must occur downstream to avoid a risk to dam safety.
During the recent rainstorm events, resulting in the largest reservoir inflows since February 2021, the generators, and dam spillway gates were managed effectively. The Lee Stations provided regular updates to Cork City Council which enabled the Council to manage risks from increased flows.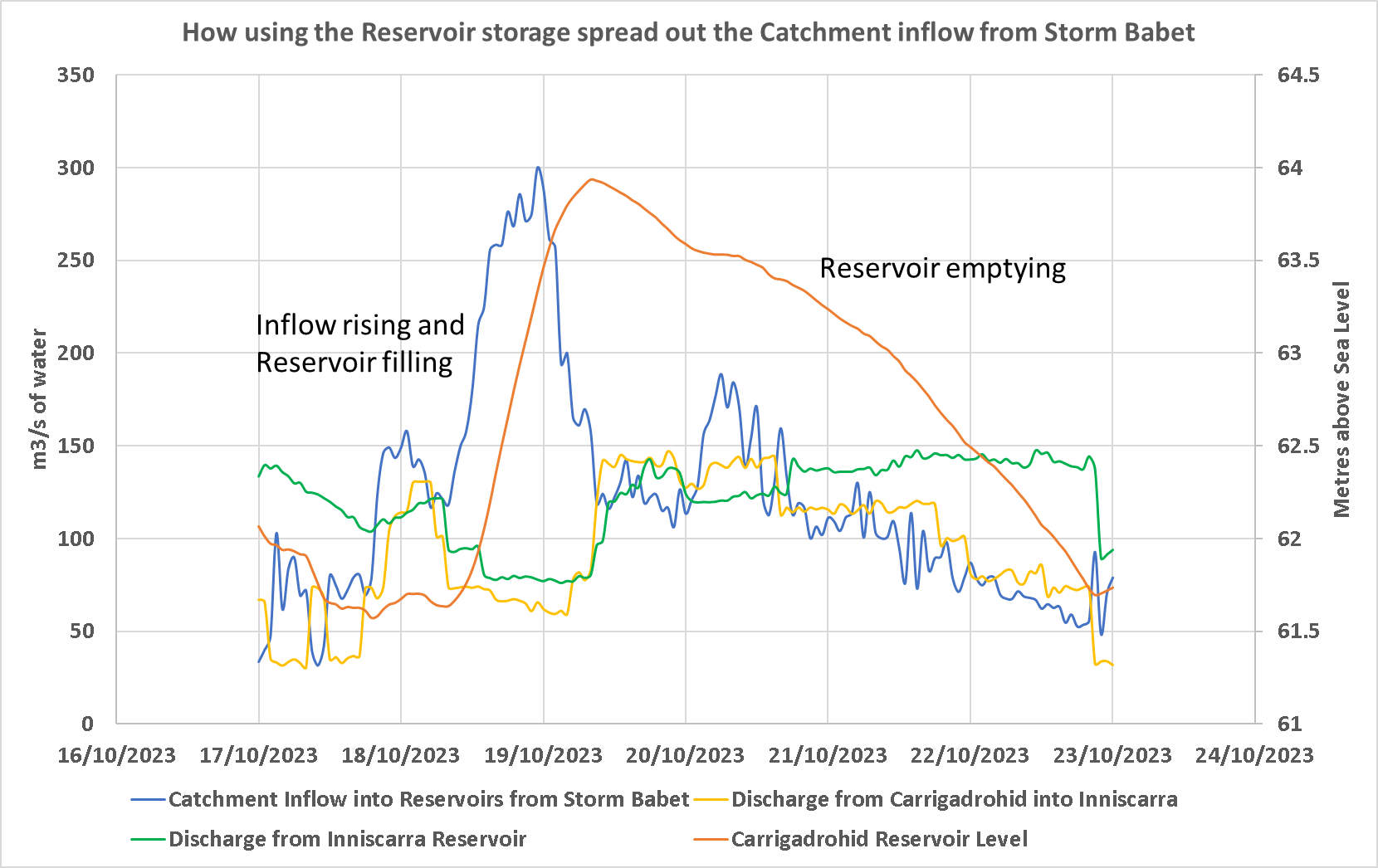 For more information on the River Lee, please see our informative infographic here.
All of our hydro stations are unique, so as a result, what can be done at each station during heavy rainfall differs.
The Shannon Scheme
Ardnacrusha, for instance, is a diversion hydro scheme, meaning that we divert the water flowing from Lough Derg at Parteen Weir down towards Ardnacrusha generating station. It does not have any large reservoir to use for storage so once we are diverting all the water that the station can safely take, the balance must flow down the old River Shannon channel. The flow down the old Shannon peaked at 170m3/s in October and generally this volume can cause flooding of fields, but not roads or property.
For more information on the River Shannon, please see our informative infographic here.
River Liffey
The Liffey has a large reservoir at Poulaphouca which we use to temporarily store rainfall from the Wicklow mountains, when, during heavy rainfall events, the Middle Liffey from Ballymore Eustace to Leixlip is already experiencing high water levels. To ensure we do not store excess water at Poulaphouca and risk the safety of the dam if a large storm was to occur subsequently, we discharge water from Poulaphouca when the Middle Liffey flood has passed. During very wet winters, this will not always be possible. In that event, we may have to release water from the reservoir when Middle Liffey levels are already high.
For more information on the River Liffey, please see our informative infographic here.
River Erne
The Erne scheme uses water from both Upper and Lower Lough Erne and must be able to pass the large volume of water that flows down from a catchment of that size. We discharge the water out to sea at Ballyshannon as soon as it arrives from Enniskillen, and no flooding occurs downstream as a result. The Erne Scheme was generating continuously and effectively for the month of October.
For more information on the River Erne, please see our informative infographic here.
Impact of Climate Change
Climate change modelling predicts higher rainfall intensity and wetter winters in the future. Every storm is unique, and every winter is different. For our part, we are ensuring that our hydro generators and dams are working well, with our water management procedures always prioritising dam safety.