Free Electrons 2018 will see 12 companies selected to develop their products to a potential market of 73 million customers
ESB is teaming up with seven other international utility companies to recruit the leading energy start-up companies in the world. ESB is today launching Free Electrons 2018, the global start-up accelerator programme, in its second year, will see 12 companies selected to refine their products and services, with the potential of testing and developing them to a global customer base of 73 million.
Joining the programme gives start-ups direct access to a network of utility giants with more than 70 million customers in both electricity and gas and over €120 billion in revenue across 40 countries.
Paul Mulvaney, Executive Director of Innovation at ESB said: "At ESB we are very focused on exploring radical and cutting-edge ideas in the energy space that will benefit our customers. We are proud to be a founding partner of the Free Electrons programme and are excited to work with and learn from this year's entrants from around the world and offer them the opportunity to trial and develop their products for our customers in Ireland and the UK.
Our ongoing work with last year's finalists Climote, the home heating control specialists and Driivz, the e-mobility experts, is testament to the success of the close collaboration between the start-ups and the utility companies in this programme. ESB is also trialling products with other participants including solar designers HST Solar, smart grid experts Depsys and the 2017 winners BEON which specialises in residential solar products."
Last year's programme saw more than 450 energy start-ups from 51 countries apply to provide the next generation of ideas in clean energy, energy efficiency, electric mobility and on-demand customer services. Of those, only 12 start-ups made it through to a global programme of collaboration with the international utility companies, including Climote, the Dundalk-based home heating control specialist. More than 22 contracts were signed between the start-ups and utilities, with potential financial contributions in the next 12 months from contracts estimated at $12 million.
The aim of Free Electrons 2018, is to recruit energy start-ups that will drive the next generation of ideas in clean energy, energy efficiency, e-mobility, digitisation, and on-demand customer services. The programme runs between April and October 2018, taking them on a global expedition with modules held in Sydney, Silicon Valley and Berlin.
The utilities and accelerators behind the Free Electrons programme will offer expertise, resources and access to their customer base in exchange for investment and partnership opportunities.
Start-ups interested in participating should apply to the Free Electrons programme by the end of February at www.freetheelectron.com www.esb.ie/free-electrons
ENDS
Free Electrons programme in numbers:
$200,000 prize – no strings attached
$12 million – The global financial value of the contracts potential signed between the 12 startups and the 8 utilities at the end of Free Electrons first edition,
3 – international modules across the globe, where participants will work closely with the utilities in order to jump-start their company's growth
12 – startups will compete for the coveted "Free Electrons World's Best Energy Start-up"
9 – key areas of interest. Free Electrons drives next-generation ideas in: Clean Energy; Smart Grids; Energy Efficiency; Energy Management; Energy Access; E-Mobility; Customer Solutions; Business Models; Innovation; IoT & Digitalization.
About Free Electrons
Free Electrons is the global energy startup accelerator programme that connects the world's most promising start-ups with leading utility companies.
Free Electrons is backed by an international alliance of utilities and accelerators: AusNet Services (Australia), Dubai Electricity and Water Authority (Dubai), ESB (Ireland), EDP (Portugal), innogy, Origin Energy (Australia), Singapore Power (Singapore) and Tokyo Electric Power Company (Japan).
You can read more about ESB's involvement here: www.esb.ie/free-electrons
Energy Tech meet-up – 24 January
Derek Roddy CEO of Climote and Conor O'Brien (ESB External Collaboration) will provide an overview of the Free Electrons programme at Dog Patch Labs on 24th January. Climote, the Dundalk-based home heating control specialist was one of 12 start-ups selected for the final round of Free Electrons 2017.
As part of the meet-up, ESB is bringing Europe's leading practitioner in peer to peer energy to Dublin. Sam Warburton, co-founder of Conjoule (http://conjoule.de/en/home/) a pioneering German based company that uses blockchain to enable energy resource sharing, will discuss how they have brought a digital, democratised approach to energy in German homes.
Further details here – https://www.meetup.com/EnergyTechMeetUp/events/246488129/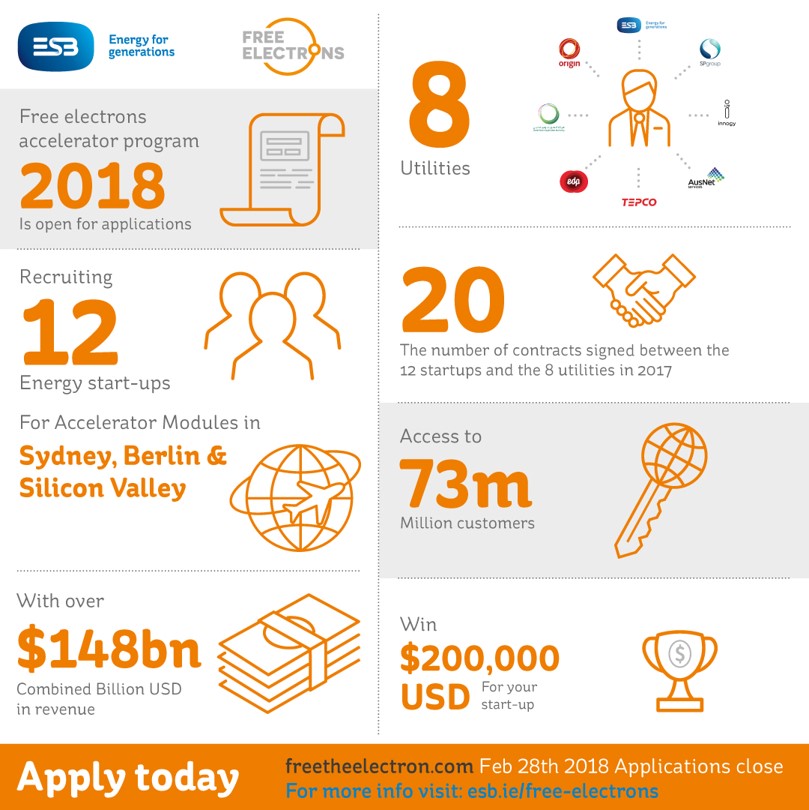 ​