This week, ESB ecars was delighted to return as the Headline sponsor of the annual Electric Vehicle Summit, which took place in the RDS, Dublin on Wednesday 9th November. This is the annual premier industry forum which is used to discuss and learn about the latest updates in policy, innovation and technology that will drive market adoption and emobility.
This year's event marked a return to in-person events for the Electric Vehicle Summit, as the previous two years were interrupted by the COVID-19 pandemic. With this, attendees gained access to both the main conference area and an exhibition area, where they could network with the entire EV supply chain.
The Summit brought together key influencers and policy makers from Ireland, the UK and Europe which meant a wide-ranging discussion on all thing related to the eMobility industry.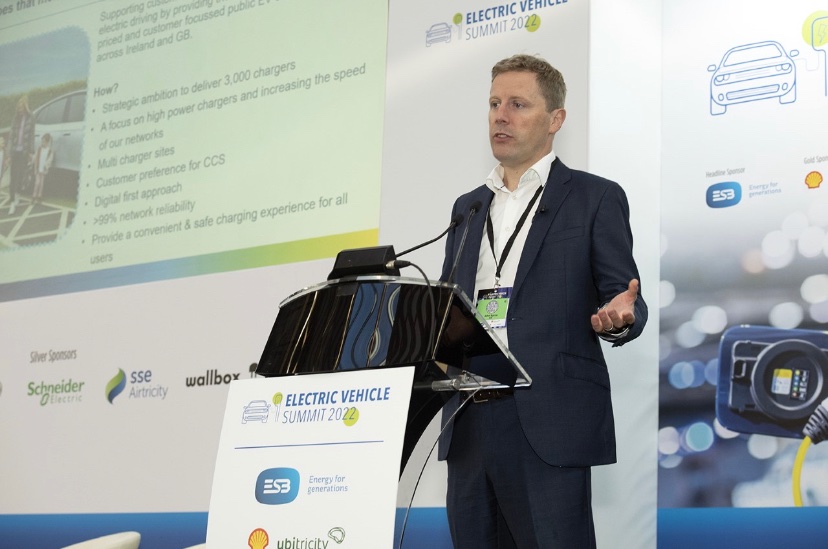 John Byrne, Head of eMobility ESB, spoke at the event and updated attendees on the status of ESB's current charging networks across Ireland, Northern Ireland and Great Britain, as well as future investment plans and how this influences our Net Zero 2040 strategy.
Other speakers included Minister Eamon Ryan T.D, Aoife O'Grady, Head of Zero Emission Vehicles Ireland, and speakers from Volvo, the Society of the Irish Motor Industry, Bloomberg, as well as some Local Authorities and other industry experts.